International Collaborative Program in Comprehensive
Medical Science between Nagoya University and the University of Freiburg
Expected Outcome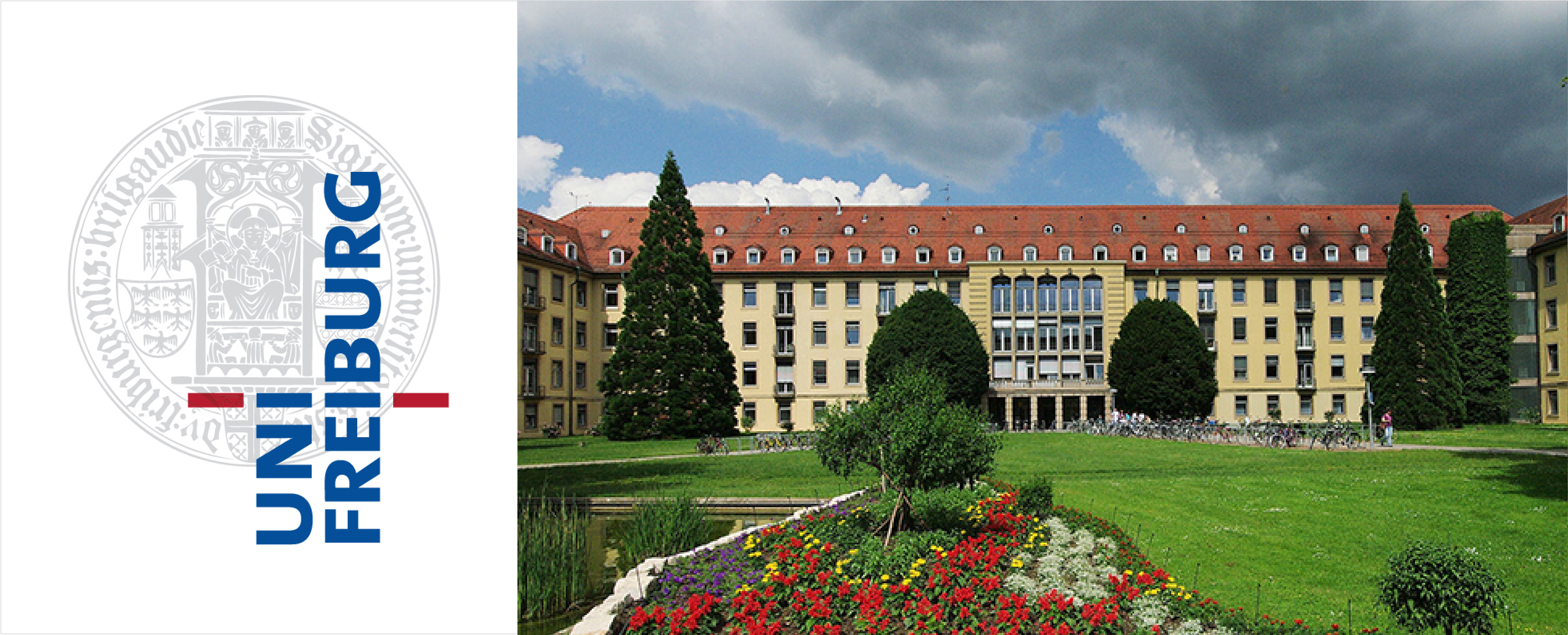 The educational curriculum has been created under the diploma policy of cultivating "graduates who are of well-rounded character with high ethical standards, scientific and logical minds, creative and well versed in a variety of academic fields which will foster a research leaders who can promote international collaborations and be a bridge between the EU and Japan.


Number of Students to be Admitted
2 students each year (one student who will be enrolled in the first year at Nagoya University and one student who will be enrolled in the first year at the University of Freiburg)
Eligibilities
 In principal, graduates of Nagoya University School of Medicine or the University of Freiburg's Faculty of Medicine are eligible. Graduates with Bachelor's Degrees in Dentistry, Pharmacy, Veterinary, or Master's Degrees in Engineering, Agriculture, or Medicine can also apply.

*If it is judged that the applicants lack basic medical knowledge, they are subject to completing established courses such as International Collaborative Advanced Medicine (TOKURON) or Basic Experimental Research on Medical Science as basic subjects. These basic subjects will be excluded from course completion requirements.
*An individual consultation may be required to judge eligibility, so please contact us or refer to the Application Requirements for more details.
Requirements
In principal, it is more desirable if you meet either of the below two requirements, but judged at the interview session.
1.TOEFL: iBT 100 or higher and 25 or higher on the each section
or
2. IELTS Academic Module: Overall Band Score 7.0 or higher at least 7.0 or higher on the each section
The test score is required at the time of application, but please let us know if you cannot prepare beforehand.
Time of Studying Abroad
 In principle, duration of studying abroad at the partner university is 12 months at the 2nd year of the PhD course. If the experiment requires special techniques or the research schedule requires to be changed, students may be allowed to extend their stay up to 30 months. The exact time shall be discussed between the student, his supervisor, and co-supervisor based on the progress of the project.
Required Credits
30 credits
Course Subjects
Contents
Group A
(Offered by Nagoya University)
Lecture Subject
International Collaborative Advanced Medicine(2 credits)
Seminar ・ Training Subject
Seminar (10 Credits)Experimental Research (6 credits)
Group B
(Offered by Freiburg University)
Seminar ・ Training Subject
Seminar (10 credits)Experimental Research (2 credits)
Lectures
"International Collaborative Advanced Medicine"
International Collaborative Advanced Medicine known as TOKURON aims to build international research organization, strategies, and methods. Lecturers having Nagoya University's active network show abundant examples of cutting-edge medical treatment and education in lectures.

Training subjects
"Seminar" and "Training Subjects" The Group A is provided by Nagoya University and the group B is provided by the University of Freiburg. The course is comprised of core subjects that promote innovation and help one to become a creative researcher and leading medical professional. The lectures will be delivered by specialists in the field to which the student belongs.
Others
University of Freiburg provides opportunities to encounter well versed fields outside of own specialty by holding lectures from a wide range of academic fields. Because the degree received in this program is a joint single degree, the below lectures are given to 本専攻students as well to ensure the quality of the degree. From a variety of options, students can take required classes, lectures related to own research, or lectures outside own research fields within a range that the time for own experiment/research is not pressed. Lecture schedule is continually updated, and shown on the web of the University of Freiburg or on the campus bulletin board.
Applicable Subjects
1.Monthly reunions
Monthly Reunions are held once a month, 10-12 times a year. Doctoral students at the University of Freiburg give a presentation to other students regarding own research result and discuss. Presentation time is strictly limited to 15 minutes to cultivate the ability to present properly in time. 5 minutes-discussion-time give opportunities to broaden the range of logical thinking since students from various fields gather, which enable to know the latest research outside own field.
2.Annual retreats
Annual Retreats are the academic training with lodging which is held in every September. It consists of lectures about the latest academic knowledge by guest speakers of various range, poster sessions which doctoral students present and discuss own research result, or social events to deepen the bonds between students.
3.Oberseminars (Literature Seminars)
Oberseminars (Literature Seminars) are interdisciplinary lectures consist of various different academic fields held by various research divisions inside and outside the University of Freiburg.
Completion Requirements for a degree
The regulations for this Joint PhD program states a diploma requires the completion of a 4 year curriculum.

Spend 12 months at the partner university

Acquire at least 30 credits.

The student must pass the final exam of the academic dissertation. At least one (also should be first author on at least one) article must be published in an internationally recognized journal.
Award of the Degree
The process of awarding the degree will be conducted jointly only once at the student's principal university, so the student shall not go through the examination process at the respective university. An examination committee meeting through Skype or another teleconference system will be held, and the Dean and co-supervisor from the University of Freiburg will join the meeting.
After the thesis has been received, it is evaluated based on scientific value, originality and logic. The student is also assessed comprehensively based on the following criteria; the image of human resources to be fostered in this program, research ethics, scientific logistics, various intellectual factors, international significance.
Degree Awarded
Doctor of Philosophy in Medical Science
A combined Diploma has a meaning of a single diploma with special inscription "conferred as a single joint degree under a jointly established PhD program between the University of Freiburg and Nagoya University"