Messages from Exchange Students'2010
Last update: December 6, 2010
My Clinical Elective at Tulane University
Hiroyasu Umakoshi (Tulane University)
I was so lucky to be selected as a first exchange student for Tulane University after the disaster "Hurricane Katrina". The damage was extremely awful, and we had to stop this exchange program for past 5 years. But the city reconstruction has been ongoing and student office at Tulane University finally decided to re-start this valuable program.
Tulane University holds various hospitals, including Tulane Hospital, Charity Hospital, VA Hospital, and Lakeside Hospital. And students are supposed to assign to these hospitals. I myself studied mainly at Tulane Hospital, and sometimes at charity hospital or VA hospital.
In April, I belonged to Cardiology department. There held morning conferences at 7:00 every day, where various kinds of themes were actively discussed. For the first 2weeks, I join the consultation team at Charity hospital. It was tough for me to keep up with doctors' discussion or patients' history. At first, I tried to understand patients' status by reading their medical charts, which enabled me to catch what seemed to be main problem of the patient at that time. Doctors, co-medical workers, and even patients were so kind to me that they tried to make me understand what was going on in slower English. In the next two weeks, I was assigned to Tulane Hospital, where I saw more procedures including PCI or transvenous temporary pacing etc. Doctors told me one precious policy "see one, do one, and teach one"; If you see something (ex. any procedure), you should do that next time, and if you encounter the same situation 3rd time, you should teach it to junior doctors/students. They said that this could be applicable even to medical students like me. I think this concept is so impressive, because I believe it must be the most effective way to learn something.
In May, I was taking Pulmonary-ICU electives. Doctors got consulted for not only ICU patients but also ER cases. So they usually followed up a variety of cases. In the morning, there was a clinical round starting from 8:30. A lot of young doctors were involved in this round, to see many patients closely, to make better assessment and plan with attendant's advice, and to absorb as much knowledge regarding intensive care as possible. That is why attending tried to make the round more instructive, showing various articles about patient care. I could see how doctors in America, where EBM was originally invented, use outcomes of clinical trials and practice EBM. The discussions were very active, ranging from basic medical affairs to ethical decisions. I was given the chance to attend an ethical conference, where treatment plan for one patient in so severe situation was argued. Various workers who were touching her care including doctors, nurses, social workers, and the ethical committee attended the conference. I felt the importance of team approach.
The supervisors kindly arranged everything for my last rotation at pediatrics, which is the most interesting field for me. I belonged to pediatric cardiology, and did shadowing. Although there were not so many cases, doctors provided me various topics to study and gave me some lectures. In addition to Peds cardiology, I could see Peds pulmonary department and pediatrics ER. They took much time to explain to the parents what was going on with the patients and how doctors would follow up the diseases. I also could attend several lectures held for medical students, where I found how actively the students had discussion. I admired their attitude toward medicine.
What I could find out after these three months of my clinical clerkship are the similarity of "medical science" and the difference of "medical practice" between America and Japan. When I was in Pulmonary-ICU rotation, one paper was taken up by doctors, which reported some rare clinical cases at Nagoya University. It reminded me that any clinical reports, trial results, or researches can be read and applied all over the world. Medical science is based on the same knowledge, no matter which country we live in. But the way we apply, that is, medical practice would be different in each countries: the medical insurance system, how various medical staff join patients care, how senior doctors teach their juniors etc. We could not compare the medical situation in both countries, if we have not seen them.
Lastly, I'd like to express my gratitude to the people who kindly help me before, during, and after this program: Dr. Kasuya, Ms. Naganawa, Ms. Nisio, and admirable senior doctors who gave us lectures before our trip. Especially, Dr. Kasuya and Ms. Naganawa gave me the important opportunity to improve my English skill through international relationship program when I was 4th year student. I sincerely appreciate these help and their giving me this precious opportunity. Thank you so much.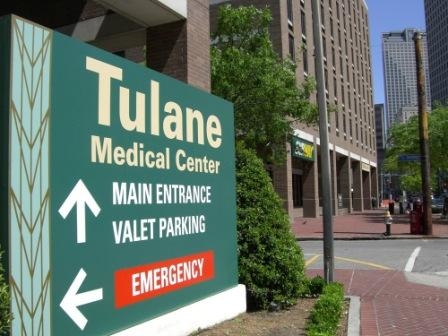 My Clinical Elective at Duke University
Yohei Harada (Duke University)
I feel it is kind of weird to write about the experience at Duke in my house. My 3 months at Duke were something much greater than I had expected. I studied at Duke university as an exchange student in the following departments: Consultative Cardiology, Neurosurgery, and Neuroradiology. Let me tell you what I did in the 3 departments.
The first department was Consultative Cardiology. To be honest, this was very tough for me. Medical students are supposed to have a couple of consults every day and see several inpatients, therefore I got up at 5:00 am and came home by Duke taxi at night. And because this was my first rotation, I could not communicate with patients and doctors well. This was very demanding for me. However, the situation got better and better gradually. Fortunately, a couple of days later, I met a very nice Duke student. He taught me everything such as, how to take the patient's history and do physical examinations, how to communicate with doctors as well as patients. He also taught me about EKG, usage of drugs. After I met him, my life at Duke had changed dramatically.
It is said that Neurosurgery department of Duke University is one of the most famous neurosurgery departments in the world. This department has many very experienced doctors, and each doctor was very kind to me. I learned many things in the operation room. Outside the hospital as well, I had a valuable moment. There is a famous Japanese professor at this department. I met him on the first day of this rotation and he took me to the workshop in Florida. Because the workshop was very popular among all the neurosurgeons in the world, I was able to spend time with doctors from more than 10 countries. Talking with them broadened my view of life. Another impressive thing was that many chiefs of big hospitals or professors joined the workshop. I was motivated to study hard for my life as a doctor.
The final rotation was Neuroradiology, which is the most competitive departments in the USA now. The style of learning in this department was unique. Medical students are supposed to study in a reading room, where doctors read films all day. When a student finds an interesting film being read by a doctor, the student sits beside the doctor, and asks questions. I enjoyed this style of learning. Because this was based on the conversation between a student and a doctor, I could feel free to ask questions.
Other than studying at hospital, I had a nice time with the medical students of Duke and of other foreign universities. When we could find time, we had lunch or dinner together and discussed various things, for example, the future of medicine, the medical educational system of each country, the ideal doctor we want to be. This made me feel that I will be one of the doctors on the Earth with them. It inspired me to work hard to be able to contribute to the world in the future.
One of the greatest things I learned from this experience is the appreciation of others. Many people, such as officers of my university, doctors and my family helped me go to Duke. Also I do appreciate the teachers of preparation classes in this program. The classes were held more than 10 times and the teachers of the classes were senior students of this program, exchange students to Nagoya University, or doctors of Nagoya University. What these classes gave me was very helpful when I worked at Duke.
I was happy in the 3 months. Thank you very much to the doctors and officers of my university, Duke university, my friends, my host family, my family, and everyone who supported me.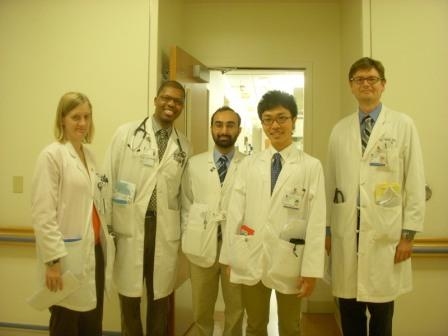 My Clinical Elective at Johns Hopkins University
Masaaki Isono (Johns Hopkins University)
I went to Johns Hopkins University 3 months for clinical clerkship from 3/2010.Johns Hopkins is the one of the best Hospital in the state and Doctor who found the p53 is working in the hospital and some doctors are arranging up-to-date. The education system is also famous and there are many students from all around the world. I studied in such a wonderful hospital for Pulmonary, Emergency Medicine, and GI department.
I joined consult team and see the patient first and presented to the attending. Once I see the patient I have to follow the patient until he discharge the hospital. In the U.S. doctors always think of the evidence. Once attending handed me the paper about my patient and we discussed the plan. I decided to study the medical terms so that I can read the paper faster. There were also lecture about CT and X-ray and it was really interesting.
I rotate Emergency Medicine for 2nd month. Students are required to take 16x8hours shift and to attend the lecture twice a week. I took the history from the patient and talk about a/p with the residents. I also tried some procedure like suture. There were many cases which I can`t see in Japan, for example, stabbing, drug abuse.
The last day of Emergency Medicine I presented the case I saw during the rotation. I presented about the patient of rhabdomyolysis and add the explanation from the paper.
After the each presentation we discussed about the case and attending talked about the good point of the presentation and told us about the disease. I was amazed to the way Hopkins student discuss and the way the attending doctor teach us.
I rotated the GI for the 3rd month. I worked 2weeks for the liver team and 2weeks for the consult team. In the U.S. we always think about the liver transplant as a treatment option. And I always evaluate the patient whether the transplant do good for him or not. I had many ways such as meld score which I didn't know when I was in Japan to evaluate the patient.GI is one of the field that Japan is leading the world so many doctors had gone to Japan for the conference and many doctors were interested in Japanese culture so it was easy for me to make a good relation with them.
The last day in Hopkins I went to see Dr,Sawa who is one of the most famous psychiatrist in the world.
Dr.Ozaki professor in Nagoya University introduce us to Dr.Sawa. I had lunch with Dr.Sawa and he told us about the latest research and the story with the world famous researcher and it really inspired me.
Not only the clerkship I also enjoyed the daily life. I played soccer with the student all over the world went to grab some beer, to see the ball game and everyday was so exciting.
On weekend the attending doctor invited me to the Easter party with his family and on the other weekend I went to Philadelphia and meet Dr,Nishizaki and the other weekend I went to New York and see Dr,Asai and Dr,Kanei. At New York I stayed in Dr,Asai's house and see how the life in New York is like. It was really nice time to talk with the Japanese doctors who are working in U.S.
I met a lot of people who I would never see if I didn't try this exchange program. This was the biggest thing which changed my life.
I appreciate all the people who gave such a nice opportunity to me; Dr.Kasuya, Ms.Naganawa, Ms.Nisio, Ms.Aoki, the doctors who came and taught us at the pre-lecture, my senior students managed the pre-lecture and taught many tips to us and my excellent classmates who always encourage me to work hard.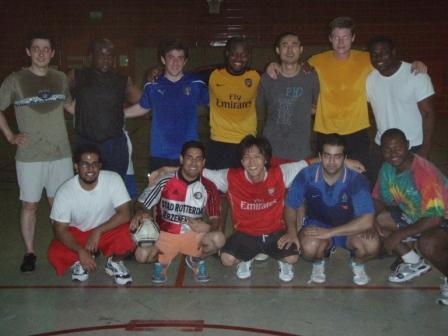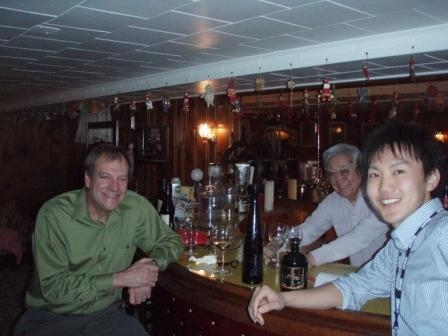 Studying at University of North Carolina
Kanae Miyake (The University of North Carolina at Chapel Hill)
I had an opportunity to study at University of North Carolina for two months. With all the feeling of thanks for everyone who supported me, I'd like to report my experience.
I worked for the consult team of the Pulmonary Medicine in the first month. Every morning, one patient was assigned to me. My work were;(1)Taking a medical interview and a physical examination of the patients (2)Making a presentation about the assessment and the plan of the patient to my supervisor Drs (3)Writing a chart. After the presentation, the treatment plan was decided in the discussion and rounds for hours. Because it was small team composed of an attending, a fellow and me, I could ask lots of questions and join the discussion well and was able to receive practical training in comfortable environment. The reason for consult was mainly requests in search of the differential diagnosis from a patient's medical history and one's abnormal infiltrates on CXR or CT. As for the case, it is approximately impossible to make a correct diagnosis and think about the plan of the treatment by myself, because the case was so complicated. However, it was significant that I was able to train the basic way of thinking to approach the diagnosis. For example, I studied what kind of test or data are needed or not, what kind of critical diseases must be excluded. My attending often asked me after listening to my presentation, "So, what's the patient's problem?" He meant the most important thing is to think about how to remove the problem or suffering of the patient first, not to guess the diagnosis like a quiz.
In the second month, I attended the inpatient team of the Department of Pediatric Pulmonology. At first, I was really puzzled for "cystic fibrosis", the disease that is very rare in Japan, was the main disease of the patients our team had. From the second week, I asked the attending Dr to assign me two patients and could follow them up until their discharge. I talked with the patients and their family, took a physical examination and wrote a SOAP chart about it. The attending Dr gave me good feedback about it every day. Assembling plan on having aimed at the goal, "the discharge" of the patient, is very difficult. As well as the treatment strategy during the patients hospitalization, the preparation for acceptance of the family and daily care for the patient at home, (e.g. exchange of the tracheal tube, choice of antibiotics at home), are also important. Discussion with a pharmacist, a dietician, nurses and a care manager was really interesting to me. I made a case presentation which I thought interesting during my rotation at the conference with Pediatric Thoracic Surgery and Pediatric Radiology Department. I referred to some recent studies related to the case and had a good evaluation from the chief of the department. It was really precious experience for me.
During my rotation, there were some episodes which made me think about the difference of Japan-U.S. medicine or medical system. For example, I worked with an attending of the consult team who does discussion about one patient for two hours, fellow Drs of the Pediatric Pulmonology who work mainly as researchers not clinicians most of the year. I felt that it was a style only in the U.S. which the specialization and subdivision of the medicine went ahead through. One Dr said to me about the patient with severe interstitial lung disease, "The only way to treat this patient is a lung transplant". If it were in Japan, I imagine, there is not even the choice of "the lung transplant". On the other hand, in the U.S., there is the patient with lung cancer of early stage who can't treat appropriate surgery because he doesn't have medical insurance. He was just followed up at outpatient clinic without any treatment. These experiences in the U.S. medicine made me think about the good and bad point of Japanese medicine and medical system.
I jumped into and studied in completely different culture, language and a medical system. It gave me new point of view and the best opportunity to think about my future as a doctor. Besides my studying at UNC, I participated in the local choir and traveled in various place in the U.S. with my friends on the weekend. These are also best memories for me. I had great time with my host family and really grateful to the all people who helped me with in the U.S.
I express sincere appreciation for Dr. Kasuya and all the staff of the International Affair Office of Nagoya University, my classmates who worked together. Thank you very much.