Message from the Dean
Promoting improvement in education and research as a world-leading research university rooted in the region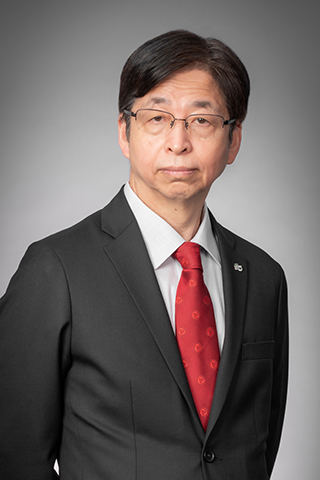 Integrating diverse fields and expanding industry-academia collaborations, and disseminating new medicine and medical care that can change the next generation.
Nagoya University was established as a temporary hospital and medical school for the Nagoya Domain in 1871, and thanks to the support over the years, celebrated its 150th anniversary in 2021. While inheriting the history since its foundation, Nagoya University School/Graduate School of Medicine have continued to develop, and train human resources who can contribute to the community through both medical treatment and research. We are currently involved in various activities to increase our presence in Japan and the world and to improve our research capabilities with the goal of pioneering new medicine and healthcare.
The starting point to improve research strength is education.
Regarding faculty education, the curriculum has changed this year, and educational reform to enhance the contents of the medical education and train human resources who can play active roles as basic and clinical researchers in the future, has been promoted.
In graduate school education, two programs, namely "Convolution of Informatics and Biomedical Sciences on Global Alliances (ClBoG)," and "Academia-Industry collaboration platform for cultivating Medical AI Leaders (AI-MAILS)" are being carried out. Students of the Graduate School of Medicine (including the department of Integrated Health Sciences), Graduate School of Informatics, Graduate School of Bioagricultural Sciences, Graduate School of Pharmaceutical Sciences at Nagoya University, the United Graduate School of Agricultural Science and Graduate School of Natural Science and Technology at Gifu University participate in ClBoG. In addition, as diverse fields are integrated in the future, researchers who can play a central role in areas where information science and biomedical science are fused together are trained. For AI-MAILs, collaboration with many companies as well as Gifu University, Nagoya Institute of Technology, and Meijo University are carried out to promote the training of human resources who can take the lead in medical AI, from development to its actual implementation in society and its exit strategy.
Industry-academia collaboration is a priority issue at the Department of Medicine. Within this, Department of Advanced Medicine at the Nagoya University Hospital has actively pursued activities, from seeds development, translational research, and finally drug discovery. One challenge that has come to light is the lack of young researchers and students who are willing to promote clinical research. To rectify this shortage in human resources, the Department of Clinical Research Education:CRE was newly established at the Graduate School of Medicine last year. At the department, not only classroom lectures, but also support to acquire knowledge and know-how needed in actual translational research is provided in order to train young researchers and students who will bear future clinical research. By integrating research and education with the Department of Advanced Medicine at the Nagoya University Hospital and lectures at the Graduation School of Medicine as the base, we hope to accelerate translational research which will contribute to the pioneering of next generation medicine.
Promoting the training of global human resources and research activities with leading universities overseas and world-class researchers
Although some international exchanges were postponed due to the COVID-19 pandemic, significant progress could be made in exchanges over the Internet. Undergraduates participated in online classes with students of the University of Munich and Monash University, and students of ClBoG at the Graduate School were trained via the Internet in information analysis, etc., as a hands-on seminar along with oversea students.
In addition, a joint project by the Global Alliance of Medical Excellence (GAME), a collaboration of Schools of Medicine of major universities in eight countries including this university, to promote education and research is carried out. In the Joint Degree Program (JDP) (*1), we are collaborating with the University of Adelaide, Lund University, and University of Freiburg, further deepening our education and joint research in graduate school. Starting this year, a dual degree system with the Chinese University of Hong Kong will be implemented. Through these approaches, we seek to cultivate an international mindset in our students, and increase the number of students who will go on to become global leaders.
The administrative efficiency of the Tokai National Higher Education and Research System (*2), established in 2020 in collaboration with Gifu University, has been improved. We have finally reached the stage of full-fledged cooperation in research and education. Regarding license acquisition, compared to other departments, there are more areas in the School of Medicine which can be shared, such as educational methods and contents. We believe that by jointly developing on-demand educational materials and complementing each other, higher quality education can be efficiently provided in the future.
In the field of research, the Institute for Glyco-core Research (iGCORE), a world-class hub for biological studies on glycans proudly belonging to both Nagoya and Gifu Universities, has been established, participating researchers are further developing research while deepening academic exchange.
In order for our university to become a world's leading research university, changing the mindset of our students is thought to be essential. Consequently, we have focused on educational reform, and are looking forward to our undergraduate and graduate students to work in research worthy of a Nobel prize. As we look to the future, it will be important for this Graduate School of Medicine to focus on research areas with global strength. On the other hand, it is also our role to continue to research fields that others have not explored and only a university can tackle, such as rare diseases. As a designated national university (*3), Nagoya University is required to demonstrate international competitiveness as one of Japan's leading research universities. At the same time, as a flagship university in the Chubu region, we must support local medical care and medicine.
To achieve these goals, collaboration with local universities, research institutes, businesses, and government agencies is essential, with mutual cooperation as the driving force for progress.
Expectations for this graduate school by the community are high, and I myself am humbled by the gravity of this responsibility. With your help, we will continue to step forward to fulfill our mission.
*1 Joint Degree Program (JDP)
  The Graduate School of Medicine, Nagoya University and overseas universities jointly administer a doctoral program and award students who complete the program one doctoral degree. Established in 2015 as a first in Japan.
*2 Tokai National Higher Education and Research System
  Integration of Nagoya University and Gifu University under one corporation to share the strengths of each university, aiming to contribute to regional development and to mature into world-leading research universities. Established in April 2020.
*3 Designated National University Corporation
A national university corporation designated by the Ministry of Education, Culture, Sports, Science and Technology and is expected to develop excellent world-class education and research activities to a considerable extent, improve the level of education and research and create innovation
April 2022
Dean of School of Medicine and the Graduate School of Medicine
KIMURA, Hiroshi