Message from the Dean
Facing a Time of Transformation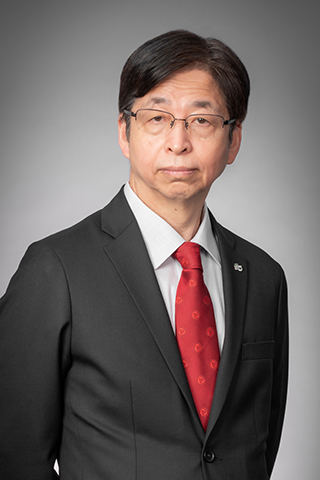 Greetings. My name is Hiroshi Kimura, and I have been appointed as the Dean of the Graduate School from 2022. The School of Medicine and the Graduate School of Medicine have four missions: 1) to promote cutting-edge medical research that will contribute to the improvement of human health and create new medical technologies; 2) to train and educate medical researchers and healthcare professionals who pride themselves on contributing to the well-being of humanity and respecting medical ethics; 3) to improve the quality of healthcare in the local community and to work to raise medical standards in Japan and around the world by partnering with institutions in both medical research and healthcare; and 4) to serve as a nexus of medical research and healthcare by making effective use of human and social resources and constructing a system that is open to the world. I believe it is my duty as the new Dean of the Graduate School of Medicine to push forward with reforms to the Graduate School based on these missions and following the policies instituted by Former Dean Kadomatsu and the other previous Deans of the Graduate School.
The Tokai National Higher Education and Research System, established in 2020 under Chancellor Matsuo's leadership, has now entered its third year, and in that time we have developed a full-fledged partnership with Gifu University. Our education of the next generation of researchers at the WISE Program Convolution of Informatics and Biomedical Sciences on Glocal Alliances (CIBoG) and the Academia-Industry collaboration platform for cultivating Medical AI Leaders (AI-MAILs) and our engagement in exchange and collaboration with top international universities through the Joint Degree Program (JDP) and the Global Alliance of Medical Excellence (GAME) are also picking up steam. Furthermore, as a platform to promote translational research, we have established a new Clinical Research Education course at the Graduate School of Medicine in addition to the Center for Advanced Medicine and Clinical Research at the University Hospital. We have high hopes that fusion research involving information science, spurred on by the reorganization of the Department of Health Sciences, will become a major pillar of the Graduate School of Medicine.
Meanwhile, it has been two years since the COVID-19 pandemic swept the globe. In that time, COVID-19 has significantly affected our health and our lives, but it has also had an immeasurable impact on education and research. That said, the pandemic also brought rapid advancement of ICT in education and instant international collaboration, developments that could be called the silver lining of COVID-19. This pandemic marks a turning point. Society has ever greater expectations of medical science, and we will no doubt play an increasingly important role.
Nagoya University Distinguished Professor Toshihide Maskawa, who passed away last year, left us with a nugget of wisdom that all researchers should bear in mind: "eyes high, hands low." This teaching can be understood to mean that we should set our sights high -- in other words, set ambitious goals -- but keep our hands low -- in other words, start from that which is in our reach. I look forward to seeing you, our students and young researchers who hold the key to tomorrow's Nagoya University School of Medicine, exhibit this teaching of "eyes high, hands low" as you pioneer new medical science and healthcare. I, too, will contribute my humble efforts to serve as a catalyst for change in the School of Medicine and the Graduate School of Medicine.
April 2022
KIMURA,Hiroshi
Dean of the School of Medicine and the Graduate School of Medicine