Messages from Exchange Students'2009
Last update: 2009/12/18
Studying abroad at UNC Kazuhiro Ikumi
Kazuhiro Ikumi
I have studied abroad for two months at University of North Carolina (UNC), a state university in Chapel Hill, North Carolina. UNC is widely known for its primary care so that I first tried to take some courses related to it, such as family medicine or emergency medicine. However, they had a little capacity of students, so I changed my mind to take some courses which are not prevalent in Japan, Infectious Disease and Pediatric Neurology. Now I suppose I would like to write on my experience at UNC chronologically.
The first month, I was taking Infectious Disease course. Basically, I was just only in consultation team while Infectious Disease had two other teams, ward team and outpatient clinic team. The clinical clerkship in Infectious Disease was as follows.
At 9:00 AM, all team members get together at the office, and check if there are any patients consulted to the team. If the team has new patients, residents, interns and medical students have contact with fellows to be in charge of the patients. Personally, my work was to ask the medical history of patients and examine them, make summarized information about them and submit it to the fellow for first two weeks. The first goal for me was to learn how to make good relationship with the patients and get accustomed with the system in the hospital. So, it took a relatively long time to get sufficient medical history from the patients.
At 1:30 PM, all team members get together again and hold a conference every day. They make presentations about the patients and share them, and after that they go to talk with patients. The team had many members at that time, one attending, two fellows, one resident or intern, three medical students, one pharmacist, one pharmacy intern and two pharmacy students. As the senior students in my university said, the pharmacist was so enthusiastic to teach students that they sometimes made lectures for us or gave some electronic textbooks. A fourth year student in UNC was also taking clinical clerkship in Infectious Disease with me, so I often asked him what I didnft know or I couldnft comprehend. When I was confronted with some difficult problem, I often used Uptodate or ask questions to the senior doctors to understand them profoundly. For first two weeks, it was demanding for me to concentrate on and understand what they talked at the conference because I have little knowledge about medical terms about microorganisms and antibiotics. However, I finally came to feel that it was not so difficult with the intense effort to absorb knowledge about them. Totally, since there were only little new patients consulted to the team, I often attended to the case conference and M&M conference. Because I had no chances to make presentation about the patients, I ask for the attending to be given opportunity to make presentation about HTLV-1 at the end of the term. Team members at Infectious Disease were so kind to listen to me intensely, and I was glad to make discussion with them.
The most important thing I learned from the experience at Infectious Disease was that if I tried to communicate with people, it never failed even though there were some obstacles such as language barrier or different way of thinking. At first, I was anxious about communicating all in English because I have little confidence. However, if you try to use gestures effectively, you can communicate with any kind of persons.
The second month, I was taking Pediatric Neurology course. It was quite lucky for me that I had opportunity to take clinical clerkship with many third year students. Once I moved from Infectious Disease to Pediatric Neurology, I felt like I made many steps back again. So I often asked to the third year students what I didnft know and I managed to keep up with them with their tender attitude toward me. The clinical clerkship at Pediatric Neurology was as follows.
At 7:30 AM, I was attending to the morning lecture. While it was held early in the morning, the medical students there were making ardent discussion with the lecturer, which was impressing for me because I have never seen this kind of situation in the lecture at my home country, where the students look sleepy at any time. Basically, the lecturer first explained us what was clearly important but sometimes difficult to remember, the lecturer made some questions to the students and they discussed. I thought almost all of the lectures were student-oriented and were never boring.
After taking lecture, we went to see the patients hospitalized, talked with them and prepared for the conference to make a presentation about them every day. It had only 30 minutes, so I was totally trained to finish my work effectively within the given time, from which I learned to get over any kind of pressure and concentrate on what I needed to do.
At 9:00 AM, we need to make a presentation about patients and went to talk with the patients with the team again.
From 12:00 AM, we took a lecture again over lunch for one hour. And after that, if the team had new patients consulted, we got contact with a fellow to see patients and filled out a medical chart. Since the work was far harder than what I did at Infectious Disease, I sometimes felt embarrassed. However, with the assistance of third year students and senior doctors, I could adopt to the new environment. What I felt most pleasant thing was that all of the members called me eKazf and got along very well with me.
The last day of the term, the attending invited me to the pizza party and I enjoyed having dinner with third year students and senior doctors. Instead, I made Japanese foods, bring my cello and perform some classical music.
They were all kind to welcome me and some of them said to me, gWe could spend a special month with Kaz. Thanks a lot! h. At the moment, I felt it was really fortune to be given this kind of marvelous experience. Although I felt two months was relatively short, in each day I could find something new to me. And at the same time, it was real challenge so that I felt like I grew up from many point of view.
I would like express my gratitude to all persons including Dr. Sakamoto, Dr. Kasuya, all members in International Exchange Program and Education Affairs Department. Thanks for everything.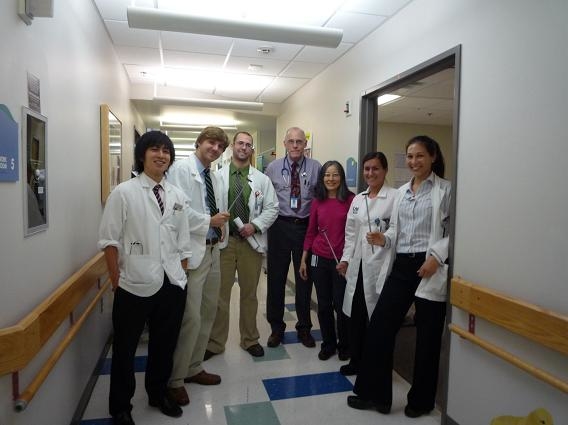 Clinical clerkship in Johns Hopkins University Kentaro Yamamoto
Kentaro Yamamoto
Ifd like to write about my clinical clerkship in Johns Hopkins University. Ifve done 13 weeks clinical clerkship at Johns Hopkins University from March 2009. Johns Hopkins University is located in Baltimore MD, which was the Best Hospital in the US for 18 years. At first, I was worried that I couldnft do the clinical clerkship just as the other students. But that concern proved unfounded. Thanks to the training in Japan, I finished the clinical clerkship without big problem. I chose 3 electives, 5 weeks of Cardiology rotation, 4weeks of Endocrinology, and 4 weeks of Emergency Medicine.
First, I belonged to the Cardiology consult team, which was composed of the Attending, Fellows, Residents and students. The attending was Dr. Jones through my shift. In that team, I covered some consults from other department, went to see the patients, discuss the assessment and the plan with fellows, and presented the case and the assessment and plan to the attending when we make rounds. Every doctor worked with keeping the EBM in mind, and when they had something they donft know or they are concerned about during the discussion, they referred to the Up-to-date and the original articles. I was impressed to find that the attending also gave lectures to other doctors with presenting the original articles.
There were some patients who didnft have the medical insurance. I made a plan without expensive procedures like MRI or cardiac catheterization for them. Dr. Jones said to mehWe chose the best medicine based on the clinical knowledge. We donft avoid the best medicine in consideration of the expense. This is our ethic. Even though it will be a volunteer, we take MRI without insurance if the patient really needs it.h I found it impressive to hear that because I heard that some patients in the US donft have the medical insurance and they cannot be treated.
I worked in the Endocrinology department in the second month. I usually worked in the outpatient center in the morning, and made rounds with the consult team in the afternoon. I saw many patients with endocrine problem including pituitary disease, thyroid disease and diabetes. The doctors were very educative, and they often asked me some questions from rudimentary medicine to clinical diagnostic criteria. When I couldnft answer them, they taught me very kindly. One of the attending was very nice friendly person, who was a compiler of the Up-to-date, and when he gave me lecture, he bought me a bottle of smoothie!
In the last month, I worked in the emergency department. Every student in the Johns Hopkins University has to take the Emergency department rotation, and we decide when we took the shifts at the first day. There were 12 students who worked with me. Each shift was 8 hours long and we had to take 16 times shifts including 3 times holiday and 3 times night shifts. I find it interesting that students in the Hopkins tend to prefer night shifts to Holiday shifts.
In the ER, one resident covers 5-6 beds, and the attending supervise 4-5 residents. Residents presented all the case they saw and the attending checked all the assessment and plan for patients. We students basically helped the residents, and we saw the patients before they did, presented the case to them, discussed the differential diagnosis and plan, and finally went to see the patient again with them. When the patients came into the hospital with the needs of critical care, every doctor run into the critical care room to save the life. In such situation, we did the basic procedure like cardiac compression.
The most impressive case was when I gave anesthetic and put in a suture for a drunken patient. One of a 4th grade student taught me how to gave anesthetic and wash the wound and put in a suture. That was my first time suture for real patient.
I did emergency treat simulation with a model and simulant drug. I did the same kind of simulation in Japan when I was 4th grade, but I didnft use simulation drug at that time. I also take EMS ride-along shift and Helicopter fly-along shift. Those were exciting!
Other than the fascinating experience in the Hopkins hospital, I enjoyed the usual life. On holydays, I went to Annapolis, D.C., and New York. I went to see the musical, museums, and National parks. I also visited the cherry blossom festival and went to see Major league baseball games. I got to know some students in the dormitory, and they bought me an ice cream cake and set up a birthday party for me. Every day in the US was completely different from the life in Japan but was fulfilled.
I feel grateful for Dr. Sakamoto, Dr. Kasuya, Ms. Naganawa, Ms. Nishio, and my fellows. They helped me before and during the clinical clerkship. Without their help, I couldnft enjoy this opportunity. I really appreciate their kind assistance.