Messages from Exchange Students'2006
Last update: 2009/12/18
Children's Hospital of Philadelphia
Satoshi HAYANO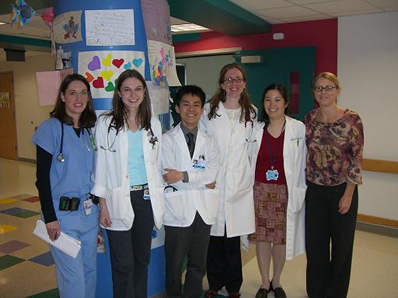 Fortunately I was assigned to Children's hospital for all rotations, as my interest has been in Pediatrics. I spent totally happy three months at CHOP, and am sure I'll miss these days.
I'd like to talk about the first rotation at Pediatric Endocrinology because it was the best experience for me.
Every morning, I visited my inpatients' rooms. Sometimes I was sorry to awake parents, and children were still fast asleep, I listened to children's heart silently. I appreciate their generosity, because my language was still limited. It was very impressive for me that every medical interview starts in polite manner, introducing each other, shaking hands. I think every interview should be such, but we often skip this important part (simply because we are overwhelmingly busy). I learned basis of endocrinology like control of insulin, differential diagnosis for hypoglycemia.
The round every morning was very happy one. There were always active discussions on from the choice of therapy to the basic science of metabolism, over plenty of doughnuts or bagels (I'm still not sure who brought those to rounds). Someone took unsolved problems, and lectured the next morning. It was very academic, but no one was blamed for not knowing. It's rather a chance to get new knowledge.
The most impressive point was the difference in student education. It was the first experience for me that we students are required to present therapeutic goal (even the quantity of drugs). I've never taken such a responsibility for my patients. So I read therapeutic manuals or papers, asked busy residents for small lectures everyday (they were kind enough to show me their patients, give me small lectures, encouraging me). I was very happy when I got "Good work!" from my attending doctor. In my country, students supposed to read big books like Harrison's or Nelson's, and should avoid manuals. But I found other approach to get deepened medical knowledge at CHOP. Students joined the team, taking care of their patients, and learn very much through their patients.
I saw so many super rare diseases at CHOP. It was a valuable experience to see many diseases, which average doctors cannot see during their whole careers. I've never seen so many metabolic diseases, IBD, and CF (these diseases are rare in my country). And I learned some differences on therapeutic policy and choice of drugs.I must mention the weekend life. I took advantage of the good location (1hs to NY, 2hs to DC).
Philadelphia itself is very attractive city for me. On weekends, I had many good experiences, talked with medical students over beer, and enjoyed outstanding collection of arts, orchestra, Jazz ... etc.
I appreciate all the kindful helps from everyone. Many residents, fellows, attendings at CHOP, Ms.Varelie at Global Health Program (thank you again for solving so many troubles, encouraged me always). I'll never forget these good days.
Philadelphia as a visiting medical student from Japan
Nozomu Kawas
It was almost the end of chilly March when I first landed on Philadelphia, waited with eager anticipation for the life and the clinical rotations in the U.S. I had the opportunity to carry out clinical rotations abroad for three months to University of Pennsylvania (Penn), one of the Ivy League with the oldest history in the U.S. as a university. I had experienced clinical rotations through the "elective" course, where we are engaged in one department all the time for four weeks. Penn holds such related hospitals as Hospital of University of Pennsylvania (HUP), Children's Hospital of Philadelphia (CHOP), Veterans Affairs Medical Center (VAMC). Medical students and residents go into training in several departments in these hospitals. Luckily I was allowed to join the clinical rotations for three months in CHOP.
CHOP is known for the first hospital in the U.S. dedicated exclusively for children, having celebrated its 150th anniversary last year. Not only does CHOP have a long history of caring children but also was ranked No.1 pediatric hospital in the U.S. It is one of the most competitive hospitals for pediatric fellows and residents. CHOP has its own research center, demonstrating its eagerness for researches on both basic and clinical medicine. Noon conferences are held everyday targeted for residents and medical students, and every Wednesday there held grand conference for everyone working in CHOP. Here are some experiences I had in the department of hematology, neurology and gastroenterology.
I was assigned to the consult team of hematology soon after I entered CHOP for the first time. The department of hematology is divided from that of oncology, having its own professorship respectively. Although fellows in hematology/oncology cover both departments, I was supposed to see patients mainly in hematology. In hematology, an attending covers both inpatient and consult with two fellows. Several residents, externs and medical students covered inpatient under a guidance given by attending and fellows. The consult team consists of an attending, a fellow and me, three members in total. I was in an advantaged situation to be educated directly from attending physicians and fellows. There was a clinical round starting from 8:15 every morning, all the staff gathering in one room, giving a case presentation of every hospitalized patient. I was somewhat overwhelmed by the detailed discussion on the need of workup and therapies as I was not used to attend a clinical conference during the rotations in my university hospital. After the round, I went to the bedside of patients if there were any new consults. When there were no new consults, I joined the attending and fellow seeing inpatient. In the afternoon, I mainly followed old consults with consult fellow, presenting new consults in front of the attending. Since the department of hematology in CHOP is famous for its established care unit for sickle cell disease, there were a lot of children with the disease hospitalized in hematology inpatient. On the other hand most of the patients consulted to our department had contingent disorder in hematological workup before a surgery or a procedure. In this case we usually proposed additional workups and followed them up. We sometimes confronted children having difficulty in hemostasis with complex pathogenesis and concomitant symptoms. We offered them our best assessment and plan, making the most of technical knowledge about a blood transfusion and hemostasis. In the first week of rotation, I had difficulty not only in catching the fast spoken English in the hospital but also understanding what role I should play as a medical student and a layman in pediatric hematology.
However as time goes by, I learned to perform effective medical interviews and physical examinations, digging in past medical history and history of present illnesses, giving a presentation and writing up a medical chart. I found that medical students were responsible for obtaining patient's history in detail, descriptions of which can lead to better understanding of pathophysiology thereby offering a better treatment.
Next rotation in CHOP was pediatric neurology. I was again in consult team, working with fellows in CHOP and residents coming from HUP who were under training of pediatric neurology for several months. Since most children were consulted for having a "seizure"in this rotation, I suffered all the time from anxiety about imperfect understanding of subtle nuance of what parents describes during seizure. Of all I experienced during the rotation, I was most impressed by the "stroke team" At first I was puzzled by the idea of children's hospital having caring team for brain attack, but it was not long before I came across children suffering from cerebral vascular accidents due to moyamoya disease. After the consult team first evaluated the patients, we called Dr. Ichord, who is in charge of stroke team, and we were all impressed to see the patients receive evaluation from her and her coworkers including a nurse and a medical social worker. Thanks to residents coming from HUP, I was able to see what outpatient clinic is like, helping me understand the wide variety of diseases that the department of neurology manages.
In the last rotation in the department of gastroenterology at CHOP, I worked again with fellows in consult team. Through the experiences I had in hematology and neurology, I became comfortable in listening to patients and giving presentations, making the rotations real training. While I was seeing patients with attending physicians and fellows, I sometimes asked whether there is alternative medical treatment for the same disease. As an international medical student I was challenged to overcome the difference, hoping to establish better medical treatments in the future.
It is worthwhile to make short comments on what I experienced outside of the hospital. During the stay in the U.S., I had a chance to visit the Center for Neurodegenerative Disease Research at Penn I was kindly offered a chance to talk with Professor Trojanowski, Co-Director. A Japanese research investigator, Dr. Uryu showed me inside the laboratory whose benches filled with researchers from various back grounds. I was impressed by the atmosphere where researchers from different fields discuss on the same project, merging their respective realms of expertise.
Acknowledgement
I wish to express my gratitude to everyone who contributed to making it possible to join the clinical rotations at CHOP. I would like to gratefully acknowledge the support from the Dean of School of Medicine at Nagoya University and International Affairs at Nagoya University. I am again grateful to Dr. Akira Nishisaki, a fellow physician at CHOP, for his helpful advice inside and outside hospital, and Dr. Jason Liu, an intern at Pennsylvania Hospital, who helped me as a peer host during my stay in Philadelphia. I must single out Mr. Satoshi Hayano, the classmate who also stayed at CHOP, for his pioneering spirit to conquer difficulties and his many kindnesses to me during the stay.
Through the clinical practice at the Duke University
M.S
At the end of March, 2006, I started on a journey to Durham in North Carolina from a little chilly Nagoya where cherry blossoms had not opened yet. The destination was a city which gives the impression of being calm country town. It was a start of the practice of Duke University, which I had long waited for.
Duke University is known as a famous, private school to all Americans though it is a comparatively new university in the United States, established in 1924. Various services are provided at its university hospital that offers state-of-the-art treatment, and a lot of patients visit there all the way from states in the vicinity. The Medical School offers a unique curriculum compared to other schools; students can devote themselves to research during the 3rd year, for example. It boasts a full staff of excellent physicians and students.
In such an environment, I practiced in the ophthalmology department, the hematology department, and the oncology department. I'd like give an outline of this and my impression of the practice by each department, as follow.
In the ophthalmology department, the main things were outpatient practice and observing operations for four weeks. I joined each clinic for a week, such as cornea, glaucoma, and retina.
For the first two weeks, I was totally overwhelmed by both the speed of seeing patients and the flood of English. However, it was during the 3rd week in the veterans hospital that I was given the chance to examine patients by myself and to make a presentation to a resident or an attending afterwards. I strove to see inside patients'eyes with slitlamp microscopy and a lens. I enjoyed talking with the patients and telling about them to the doctors. It was quite rewarding.
I attended several lectures held for the residents every week. Attendings gave them the keys to the clinical practice through the lectures. I realized ophthalmology had broader fields than I had thought, and was really fascinating. Fortunately for me, the retina team held a workshop for retina specialists from all over the world in the 4th week, and I was allowed to see it. Though it was far too difficult for me to understand, I can say I had a nice time.
I spent 3 weeks in the hematology consulting team and also joined outpatient clinics for Hemostasis & Thrombosis Clinic and Sickle Cell Anemia.
I was also given the chance to see patients, which left me with lots of strong impressions about each patient. Since Sickle Cell Disease is rare in Japan, it was a valuable chance to see the real people myself. In the consulting team, the rounds with an attending, a fellow, and a resident sometimes lasted until evening, which is so totally contrary to my typical image of doctors in the US.
A conference for hematology and another one for both hematology and oncology were held early in the morning every week, and staff of each department discussed matters actively. Through them, I learned the real style of EBM; the best method for patients should be determined by a heated discussion based on lots of papers, with the addition of empirical knowledge from doctors. Moreover, it remains in my mind that the fellows improve their skills in making presentations and conducting discussions through experiencing a number of such conferences.
The last 4 weeks were at the oncology department. I spent Mondays and Thursdays in the inpatient service and the other weekdays in the outpatient service. Though it was not easy to adjust myself to each new situation even in the 3rd month, friendly physicians and comedical workers reassured me.
As I haven't seen clinical oncology in Japan, this four-week experience gave me a firm understanding of it. First of all, I was amazed to find the difference in the services between inpatient and outpatient. I assumed the inpatient ward for oncology should be the place for administering anticancer drugs. However, the truth was that inpatient hospital was for the patients with tumors who needed acute treatments for short period due to deterioration. The anticancer agents were prescribed at the outpatient clinic mostly, except for the patients with hematologic malignancies.
In the hospital, I had to see the doctors who were proposing to move patients to hospices. It was not an optimistic sight at all, but was a very precious time. I felt outpatient was somewhat like a light side and the inpatient was like a dark one, both of which told me about oncology itself. In the clinics, I could see a large number of patients and learnt about various malignancies. Each patient visited there for a second opinion or for clinical trials. Their passionate desires to live impressed me. The combination of co-medicals and doctors worked well for examining such patients efficiently one after another, and I felt that the coordination enables the doctors to concentrate only on the treatment policy decisions.
Medicine in the US is occasionally compared with that in Japan. I became aware of the advantages and the disadvantages of American medicine through my three-month experience. Of course, we, the Japanese, have many things to learn from the US, such as the way to train and produce professional doctors efficiently, how to make the best use of papers in practical medicine, how to allow medical workers to clearly understand the responsibilities of their jobs, etc. However, I have come to think with much more conviction than before that Japanese medicine is not bad at all. Universal care in Japan, which lets everyone have the right to receive any treatment at any medical facilities, is our precious property. I think the most valuable thing I acquired during this period is the ability to evaluate own country as it is.
I recommend that any student try this exchange system. I hope more students utilize this precious chance and are stimulated in various ways by it.
Lastly, I'd like to express my gratitude to the people who produced this great system and always helped me; Dr. Kobayashi, Dr. Ito, Mr. Suzuki, and Ms. Nishio. Also, I could not have had such a highly-educational clerkship without Mr. Wilson, Ms. Goodwin, Ms. Overaker and Dr. Fields. I'd like to thank all of my friends and my family who have always been my best supporters.
E-med in America and so on
M.S.
I visited E-medicine, Plastic Surgery, and Cardiac Surgery.
E-med in America is totally different from our emergency treatment. Actually, Johns Hopkins is located in Baltimore, I had to consider there are many people who enjoy illicit drugs and shoot each other for drugs. I had no knowledge about these things and didn't know the differential diagnosis for them. Residents at Hopkins taught me everything. I really appreciate that. I just can not say thank you enough for doctors who took care of me and people who gave me such a great experience.
At Plastic Surgery, they are doing everything, cosmetics, trauma reconstruction, and burn care. Everything I have seen was impressive to me. I was happy to help them at OR.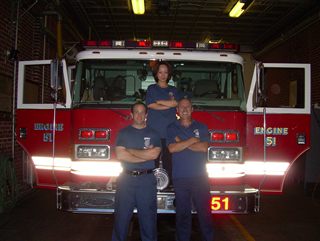 Finally, Cardiac Surgery would be worth seeing after I become a Cardiac surgeon, because their job is much too great for students to understand their challenging surgeries.
I appreciate that I was accepted to Hopkins as an exchange student. This was a wonderful experience in my life and has an influence on my life from now on. I try to come back to America, hopefully Hopkins.
A whole new world
Natsumi Saka
It was when I was the 1st grade student that I knew that there is an exchange program in my university. Now 5years have passed; after taking part in the program and arriving back in Japan again. I feel that the 3months experience in the States gave me something more than I had expected.
I did the clerkship in Johns Hopkins University, top ranked medical school in the States and very high-level in terms of practice and research.
For 3months, every day was filled with the excitement of learning new things like its system and diversity of diseases.
At first, there is a difference in its system. In the States, basically, not every subdivision has its own ward. Residents are in the general internal medicine ward and they call consult at subdivisions. I belonged to the consulting team, saw the patients and did presentations in front of the fellows and attendings. There were several new things I discovered about the American system when compared it to the Japanese one.
As students and residents, more people have to get involved with one patient, which means they need the skill to make presentations, but have the chance to get an education regarding every aspect of medicine.
As attendings, they do not have to see the wards all the times, which means they can spare time to do research and educate students.
There was responsibility on us, and many things were needed as a student. It was the largest difference for me as a Japanese medical student. Sometimes it was tough for me to keep up with their discussion and respond to their expectations.
It was perplexing to do things such as going to a ward alone, introducing myself to the patient by myself and seeing him or her, asking nurses about the patients. Actually, I haven't done those things in my Japanese clerkship.
However, doctors, patients and nurses asked me things without caring the fact that I am a foreigner or student. About 1 month later, I noticed that I had progressed little by little when I found my self seeing the patient without hesitating. And it was a really happy thing for me when I was able to get an information which I can make use of for the treatment of a patient.
It was really interesting to see the diversity of the diseases. In the consulting team, we saw new patients every day. There were some diseases which we rarely see in Japan, like sickle cell anemia, HIV/AIDS and morbid obesity.
Especially in infectious diseases, which we don't have in Japan as a subdivision, it was really interesting to see how they think when they see an infectious disease.
On the other hand, I noticed the good point of Japanese medical system every time when I saw a problem specific to the American system, such as obesity or medical insurance.
The most precious thing that I got through this exchange program is a chance to meeting the people that I got to know in Baltimore such as many patients who let me see their diseases, the fellow doctor who lived through the toughest nephrology.
In addition, in Johns Hopkins various nationalities and ethnic groups were mixed, something which is unthinkable in Japan. Some people did the top leveled biological research and others did clinical work; it was very interesting for me to hear about their work.
JHU has not only a school of medicine but also a famous school of public health. I had a chance to get to know people who study there. There, students who come from all over the world were studying in order to make the world healthier. For me it was very stimulating and as if I saw the whole world in front of me.
I really appreciate that I having been able to meet them and strongly think that I would like to learn more in that kind of environment.
This 3month experience was truly whole new world for me, and I would not have experienced such wonderful things without the help of many people around me.
I am really thankful to the doctors in Hopkins, my university, people in the student administrative office, my friends and my family.
Clinical rotations at University of North Carolina (UNC) Hospital
Y.I.
I did clinical rotations at University of North Carolina (UNC) Hospital in April and May, 2006. The exchange program between UNC and Nagoya University was made more than ten years ago. Two medical students of Nagoya University learned at UNC Hospital by the program last year.
In April, I belonged to the coagulation consult team of the hematology/oncology department. In the first week, I learned basic knowledge and skills. After that, I did presentations about patients every day. So I could learn the basic methods of medical interviews, physical examinations and presentations.
In May, I belonged to the consult team of the infectious disease department. In addition to doing a lot of presentations, I read a lot of books and papers about infectious diseases. And, my listening ability about English had progressed. So I could join in the discussion in the attending round more easily in May than in April.
The most difficult thing in the clinical rotations was to do medical interviews because my English listening ability was not so good. I thought that English ability was as important as, or more important than medical knowledge and skills in order to work as a doctor in America.
Next, I want to tell the impressive things in the clinical rotations.
About doctors, I thought that their methods of medical interviews, physical examinations and presentations were standardized uniformly. So, I could understand their presentations easily. In addition, evidence based medicine (EBM) had developed. Doctors were interested in making evidences, so there were a lot of doctors who had taken master of public health (MPH).
About medical systems, I thought that there were various kinds of co-medicals. They had high specialties and pride. And, consultation services of doctors had developed. So it was natural that one inpatient was taken care of by some departments at the same time.
The two months in Chapel Hill were very exciting and fulfilling. I appreciate Dr. Hamaguchi, Dr. Kobayashi, Ms. Cottie Pasternak and a lot of people who helped me.
My Journey of Family Medicine
Taemi Yoshida
My visit to Family Medicine in the USA was aimed at appreciating more about Family Medicine, and to learn what and how to study about it. I could contact Dr. Gwyther in UNC prior to my visit and told him that we don't have family doctors in Japan in a proper way, and that I wanted to get the overview of it. He spared a lot of time and effort just for me to make up a perfect schedule so that I could use my time there very effectively.
Unfortunately, the idea of Family Medicine is not developed well, nor known well in Japan. Basically, it is something called some doctor or primary care but there are more definitions included in FM such as broad knowledge covering not only internal medicine but pediatrics, orthopedics, gynecology and obstetrics followed by continuous and longitudinal care, person-centered approach oriented to the individual, his/her family, and their community, and so far to prevention. For such patients having many chronic diseases at the same time, family doctors are definitely in need. Cares for low back pain or other symptoms whose cause is not certain, those of family doctors are affirmed in many articles that the cost-effectiveness is better than specialized doctors. They have the same outcomes with lower cost and better satisfaction of the patients. Furthermore, seen from the patients' side, the medical system in Japan is getting more and more ramified and specialized leading to a confusion of the patients. Some patients don't know which department to go and some have to stay in one hospital all day to see several doctors. Needless to say, if it comes to an elderly person, it is even harder. Therefore, in my opinion, a branch in medicine which enables a comprehensive care for patients is a necessity.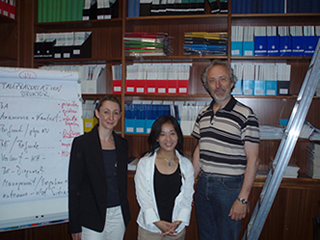 So, my visit to UNC was consisted by rotation in the regular clinics, seeing special clinics, participating to some rotations of the third year students, meeting some family doctors in UNC, and attending the Spring Meeting of NCAFP (North Carolina Academy of Family Practice) in Charleston.
In the regular clinics, I was doing shadowing, interviews and physical examinations of the patients and sometimes little procedures such as the pap smear.
Special clinics are some procedure clinics like skin clinic, colposcopy, sigmoid scopy, acupuncture and consult clinics like sports medicine, diabetes clinic, and ETT clinic. They are most of the time run by trained family doctors but sometimes it was run by a nurse practitioner. They were very well trained and working just as the same way as the doctors do, and were great help for the doctors. It was also quite surprising to me to see that acupuncture was so popular and actively imported from Chinese doctors. There were some lectures held for the first and second year students using lunch times to give a chance of the first touch to acupuncture.
Med schools in the USA are 4 years and from the third year, students do rotation in each department. In the Family Medicine department, each student goes to different clinics outside the university and sees the patients in the outpatient. Unlike in Japan, they not only give interviews and physical examinations, but make assessments, planning and even prescribe medicine. They do it from Tuesday to Friday, come back to the university on Mondays and have feedback and lectures, which is called the Day Back session. They did PBLs (Problem Based Learning), in which they did a role play of outpatient clinic based on the cases they saw during the previous week. I was surprised to see students listing up dozens of differential diagnosis in a few seconds, numbering the orders according to the possibility, and telling the patient side student what they think and what plan he is thinking of regardless of whether he could get the diagnosis or not.
The meetings with the family doctors were very interesting. I saw the program director of the residency, a doctor involved in international healthcare, some people dedicated to the non-smoking program, and some resident doctors. By this I could learn not only the clinical side but also the systematical and social side of family medicine.
In the Spring Meeting of NCAFP I could see many lectures and work shops. There doctors were sharing knowledge and skills. There was also a section for students. Each university has an interest group for Family Medicine, and students who belong to those groups gather and tell each other what activities they had done in the year. The discussion held there lead them to maintain their motivation to be family physicians.
I was all the time amazed by the level of American students, but what mostly surprised me was SHAC. SHAC is a clinic by the students for the students. It is run all by students once a week at a clinic and patients come to see many kinds of students for free. They see students studying to be social workers, nurses, and doctors and help them learn about their field by telling them their problems. Patients come for many purposes, some for treatment, some for exams, and some for health check. First year or second year med students go with a third or forth year students and see the patients. The upper year students teach them as they interview, do the physical examinations, and fill in the record paper. They discuss the problems, think of assessments and plans together, and present the case to the family doctors (they take turns and come here as volunteers) in the waiting room. The doctors give advice and sign the record paper, then the students can prescribe medicine, order tests and talk to the patient about their problems. Here they can do simple tests like urinalysis, blood tests, pap smear and if the problem is rather severe, the patients are referred to the Family Medicine department in UNC. I could join this activity on the second month of my visit every week, and every time a 4th year student taught me very kindly and devotedly.
Thanks are due to all the efforts the doctors made the year before to make contract with Vienna University, I could visit there too for a month. In Vienna, I didn't round the academy hospital, but visited several different GP offices, some facilities of drug addicts, suicides, and medical researches, and also to a couple of GPs in the rural areas. Professor Maier kindly gave me some lectures about the medical system and the medical educational system in Vienna so I could learn the overview of the structure which was quite unfamiliar to me. Most of the doctors welcomed me with warmth and kindly translated the conversations with the patients in English.
By the way, time in Vienna felt very slow to me especially after the 2 months in the USA. I don't mean to criticize, but there were some errors that a doctor should not make, and I didn't feel EBM is much emphasized there. However, there was one very important point better in Vienna than in America. The time the patients spent talking was much longer than that of the doctors. They were telling their stories and demands to the doctors more freely. On the other hand, in the USA, I had an impression that the doctors were talking all the time trying to explain about their understanding of the disease, what their plan is and all the evidence of the treatments and exams. This is based on a huge issue particularly in America that doctors are sued so often there. This ends up in a long talk of a doctor telling everything they can predict at the time to avoid problems coming up later on.
Japanese people tend to be on American side, believing an illusion that everything in America is the best. In fact, the high-geared, glamorous and academic medicine you see there is easy to be taken in a good way. Also, we tend to see Europe the same way we see America and think that it is the same there. I harbored this illusion too. But it was completely wrong. In Oxford University, where I dropped in on the way back, I saw Dr. Nishigori and enjoyed discussing medical education and systems for hours and hours and what he said was this, In American medicine, it's like you are supposed to show the strongest evidence faster than anybody else and shut the others up. But those attitudes are held in great contempt here in Britain. Discussion is a process to listen to other opinions and to find a point you can compromise so everybody can get a better conclusion than before.EI still think the education in the USA is absolutely wonderful. But if it comes to the subject of what a good doctor is, I think American doctors are neither right nor the best. I still wish to learn medicine in the USA but I am telling myself to keep in mind that I must not over-emphasize the good points at the expense of the bad ones.
This time I only went to the western, white communities after all. It must be so different to see medicine practiced in, say, Africa. We have to see more things, from many different points of view with our own eyes, always keep both admiration for and criticism of them, pick the good aspects we need and wish to adopt, and create a unique figure of the doctors we wish to be. My journey, I must say, was not fruitful seen from the point of attaining technical knowledge, but I believe I have gathered valuable experience which I would never be able to attain in the future in the same way.
I would like to acknowledge the enormous help given to me all through this program from before the beginning to after the end. Special mention should be made of Dr Ito, the director of this program and also who succeeded in making arrangements with Vienna University, as well as Dr Kobayashi, also a director who helped me negotiate with the two universities. I would give the special thanks here again to all those I met in the USA and Vienna,Dr.Gwyther,Dr.Williams,Prof.Maier,Dr.Salemi,Dr.Groihofer,Dr.Rebhandl and all the others. I alos must acknowledge all those doctors who have participated in this program before us and launched the Frontier group to maintain and develop this program. And, of course to Ms Nishio who supported me both proffessionally and in terms of encouragement.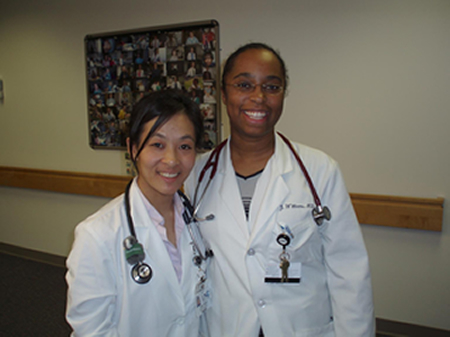 clinical practice in Europe
Atsushi Kamijo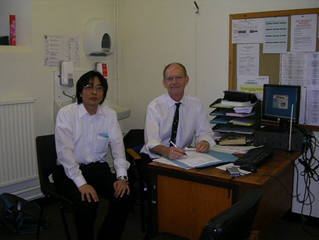 From end of this March to beginning of July, I had an opportunity of clinical practice at Warwick University in UK for 1 month and Freiburg University in Germany for 2 months. Although each practice was not so long, but I was able to get good overview on European medical system and circumstance.
1.UK
I went to UK as an initial exchange student between Warwick medical school and Nagoya University. During staying in UK, I attached to Cardiology, A&E, and GP(general practitioner) at NHS's Walsgrave University hospital, Coventry.
At Cardiology, I saw many cases of PCI. The cathe-labo team was well trained, not only for doctors but also other staffs. I was deeply impressed on the excellent work of the team when some patient showed Vf. Thanks to quick action of the team, the patient could come out alive from the labo. At A&E, I learned many from SHO. Due to lack of experience and knowledge of prescription, I could not take up patients alone, but I could get many chances of history taking and physical examination. After the practice, I was very happy to realize improvement of my communication skills in English!
Attachment to GP was also interesting and impressive. GP is one of the most different system from that of Japanese. They are specialist of primary care. Since medical resource is somewhat limited more or less everywhere, GP system is supposed to be one of good solution to prevent medical resources from overflowing. Further, all the data of patients are connected on-line between hospital and clinic, which enable GP to know what kind of problem patient has and had.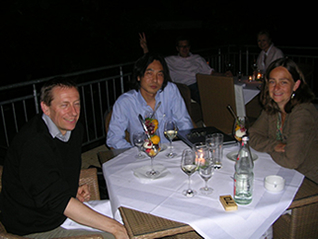 In Japan, the UK's medical circumstance was said to 'burst' i.e. patient cannot get immediate treatment for emergency, cannot get appoint of specialist easily and have to wait so long, and doctors's motivation was not good due to heavy working load. However, I understand it is no longer true. Due to new governmental policy beginning of this decade, access to the medicine for patients seems to be much improved, patients seem to be happier than before, and doctors are working so intensively and ambitiously.
Even though UK's medical system is not best (all the human system is not complete), but it is one of "better" system, and still seems to be getting better.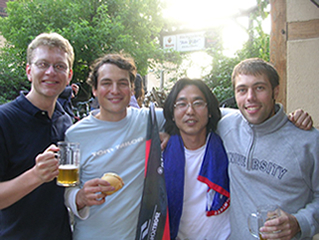 2.Germany
Albert-Ludwigs-Universität Freiburg is one of the oldest Universities in Germany, located in small and charming old city of south west Germany. I joined clinical practice of 'Practishes Jahr' final year of medical student, at Cardiovascular Surgery, Neurology, and Anesthesiology.
In cardiovascular surgery, I learned many basic practical maneuvers, and had many opportunities to scrub in operations. I was able to enjoy seeing steady and sophisticated skills of operators. In the middle of 'strike' by physicians working in all university hospitals in Germany, I rotated to neurology. Some stations were locked out, but I could continue my clinical attachment at stroke unit. Other than practice, this strike's activity was also striking to me, because labor right of doctors is somewhat delicate issue in Japan to discuss openly. In anesthesiology, I also did many practices such as intubation, and learned sophisticated anesthesia using new medication not allowed in Japan.
It is difficult to avoid talking about football, as FIFA worldcup was held in this period. As good performance of German national team, the city was in enthusiasm of festival. I cheered Germany together with students at the pub of the city. Of course I supported our national team at stadium, but unfortunately the result was miserable. I also played football with students, and could joined in 'Medimeistershaften' which was tournament among all medical schools in German, as member of Freiburg. All the memory is quite beautiful and precious for me.
I really hope that there may be some my follower to see European medicine, and they would have same good experience as mine.
My impression after visiting Medical University of Gdansk
K.O.
I had a great privilege of having studied at the Medical University of Gdansk in Poland from April to June, 2006. Since this university has an English division and has engaged in the SOCRATES/Erasmus program in Europe, it provides us with medical education in English. I was encouraged by professor emeritus Takashi Wakabayashi at Nagoya University who now is a professor at the Medical University of Gdansk.
I visited cardiosurgery, palliative medicine, infectious diseases, neurology, urology, pediatrics, and cardiology departments. Doctors kindly gave me clear and detailed explanations. I appreciate it very much. Patients speak Polish, and charts are written in Polish as well. It is not like a clinical clerkship in English speaking countries, but it was significant that I could learn medicine in European atmosphere.
As for leisure time, I could interchange among the students from other countries, and visit Kracow, Oswiecim and some other countries. It was very meaningful and joyful experience.
Europe, where there are many countries in one continent sharing borders, is a completely different place from Japan, and people there also have different sense of value. I had priceless life experience on contact with people in Europe, or just having been there. We can obtain various kinds of information on the Internet, but I learned knowledge and experience are not the same. I strongly encourage my junior fellows to study overseas when you are young and young enough to absorb something alternative.
Life in Gdansk
Hiroyuki Otsuka
I had studied in Medical University of Gdansk which is the largest medical university in the North of Poland from March to July.
I had many courses of Medical University of Gdansk, and during the courses I participated in lectures, seminars, and bedside training. Because it was the first time for me to get an education by English, it was difficult to go into details of patients by English. The teachers are very kind to me, and I could learn many things. I found the diseases which were popular in Japanese were not popular in Polish, and I could understand the characters of Japanese profoundly, and vice versa.
I had been to AWFIS in Gdansk to practice judo in the evening, too. The judo club of AWFIS is the best judo club in Poland, and I had trained with many players included national team players. Though I cannot speak Polish so much and they cannot speak Japanese, I made many friends by heart-to-heart communication. I knew what was important in international exchange was not language but heart.
I believe that the satisfying experiences during my stay in Gdansk will be useful in my future.