Musculoskeletal and Cutaneous Surgery

Dermatology
Introduction
Department of Dermatology, Nagoya University Graduate School of Medicine has a long history longer than 110 years. Many distinguished dermatologists and leading researchers in the dermatology field have come from our department. Always we make every effort to contribute to the progress of both clinical dermatology and basic skin science. Our clinical and experimental studies have resulted in more than 40 publication in international journals every year. We really hope we can depelope our research further wider and bigger in the future.
Research Projects
1. Elucidation of pathogenesis and genetic causes of various genodermatoses including genetic and inflammatory keratinization disorders
i) To reveal the pathogenesis and to identify the causative genes of severe disorders of abnormal keratinization including Harlequin ichthyosis and palmoplantar keratoderma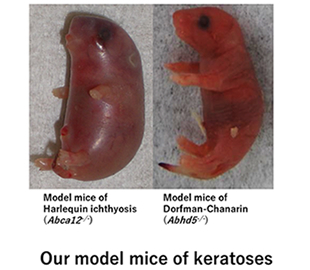 - To the development of treatments from the prenatal diagnosis-
We have been subjected to find the pathogenic mutations and to perform the prenatal diagnosis of various hereditary dyskeratoses, including ichthyosis for more than 20 years. In 2005, we identified the pathological mechanism of the most severe form of hereditary ichthyoses, Harlequin ichthyosis. In 2008, we have successfully generated the model mice of the Harlequin ichthyosis (ABCA12 knockout mice), we are currently trying to find the gene therapy of the Harlequin ichthyosis using this model mise, the effective treatment of fetal care.
From 2009, we have conducted a national survey of Harlequin ichthyosis as " Research team of Harlequin ichthyosis (group leader: Masashi Akiyama)" of the Ministry of Health, Labour and Welfare. By the combination of our cohort and basic experimental data, we aim to create and to develop the global standard treatment guidelines of Harlequin ichthyosis from Japan.
In addition, not only Harlequin ichthyosis, but also a variety of inherited dyskeratoses, we have received a request for a large number of patients with genetic diagnosis from all over the world. In 2015, we found a new genetic pathogenesis in a patient of keratitis-deafness-ichthyosis syndrome who had a dominant pathogenic p.Gly45Glu mutation in GJB2 gene. One of the parent also had the same mutation, however, remained unaffected by the disease. Further investigation revealed that absence of the disease in the parent was due to another coexisiting p.Tyr136X nonsense mutation in the same allele of GJB2 gene that confined the dominant pathogenic effect of the other mutation.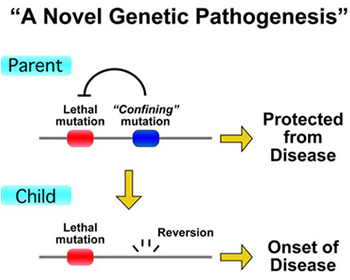 ii) Challenging to the treatment and establishment of the disease concept of inflammatory keratoses as autoinflammatory skin diseases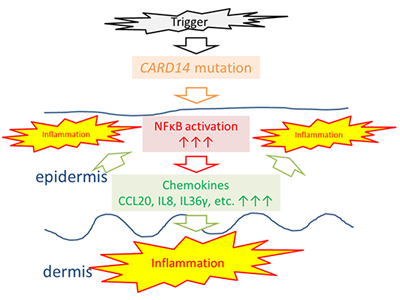 An autoinflammatory skin disease caused by a mutation of the natural immune-related gene was characterized as inflammatory disorders, showing a high fever, skin rash, arthritis and gastrointestinal symptoms. Recently a part of the inflammatory keratosis has categorized as a new disease concept of autoinflammatory skin disease that causes the sometimes systemic inflammation mainly the skin.
In recent years, we have taken a lead in the research field of autoinflammatory disease presenting inflammatory keratoses. We have reported that for the first time a patient with generalized pustular psoriasis (GPP) with an IL36RN mutation in a Japanese population, the majority of GPP without psoriasis vulgaris is caused by deficiency of the interleukin-36 receptor antagonist due to IL36RN mutations, germline NLRP1 mutations cause skin inflammatory and cancer susceptibility syndromes via inflammasome activation.
Furthermore, in 2016, we demonstrated that pityriasis rubra pilaris (PRP) type V is autoinflammatory disorders caused by CARD14 mutations. PRP type V is an atypical juvenile type and the disease appears in the first few years of life. The patients show a chronic course. Our data suggest that anti-inflammatory therapy targeting CARD14 may be a promising therapeutic strategy for autoimmune diseases such as PRP type V. Currently, with the aim to establish an effective treatment for patients who of this incurable disease, we are working to further functional analysis.
iii) Other inherited skin disorders
-Autosomal recessive woolly hair, epidermolysis bullosa, ectodermal dysplasia, etc.-
We are performing mutational analysis not only for keratinizing disorders but also for a variety of other inherited skin disease. For example, autosomal recessive woolly hair and hypotrichosis, epidermolysis bullosa, ectodermal dysplasia. If there is a suspected genetic disorder with skin symptoms, we would like to challenge in revealing pathological mechanism of any disease.
We have started whole-exome sequencing analysis collaborated with Dr. Yusuke Okuno at Center for Advanced Medicine and Clinical Research in Nagoya University Hospital since 2016. This new methodology makes possible to identify the causative genes especially for having complicated phenotypes.
2. Challenges to reveal the pathogenesis of connective tissue Diseases and autoimmunity
The presence of abnormal levels of autoantibodies to intracellular antigens is a hallmark of systemic autoimmune rheumatic disease (SARD). We have been investigating autoantigens and autoantibodies in SARD and clarifying their clinical and pathological significance by molecular biological methods.
Anti-centromere antibody (ACA) is generally considered to be a serological marker of limited cutaneous form of systemic sclerosis (SSc). ACA recognizes multiple centromere proteins (CENPs) of human chromosomes and our previous studies of epitope mapping of CENPs showed multiple epitopes, which coincides with biological functional domains of them. Recently we first reported that ACA-positive primary Sjögren's syndrome (SS) constitutes a clinical subset of SS being independent of SSc by epitope analysis.
Anti-dense fine speckles 70 (DFS70) antibodies, a peculiar antinuclear antibody (ANA) pattern by indirect immunofluorescence, is the first reported ANA in atopic dermatitis by our international collaboration study. We first reported that anti-DFSF70 antibodies are present in ~10% of healthy individuals and that individuals with "mono-specific" anti-DFS70 antibody are rarely diagnosed as having SARD. Since recognizing anti-DFS70 antibody is very important for analysis of laboratory results in rheumatology clinics for the correct diagnosis and medical cost-saving, their measuring kit, which was established by our collaborative study with a laboratory company, is now distributed worldwide.
Our previous study produced our own method for detecting anti-MDA5 and anti-TIF1 antibodies, which are serological markers associated with dermatomyositis with life-threatening complications, namely, rapidly progressive interstitial lung disease or internal malignancy. With that as a start, we have established quantitative methods (highly sensitive ELISA) for measuring a lot of important autoantibodies associated with SARD or autoimmune bullous diseases, which cannot be commercially and quantitatively measured even now.

3. Projects on pigment cell biology and genetic pigmentation disorders
i) Research for pathogenesis of dyschromatosis symmetrica hereditaria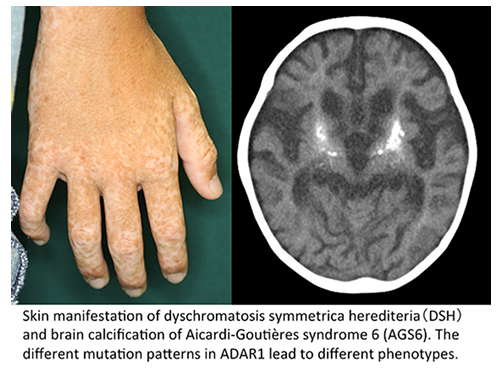 Dyschromatosis symmetrica hereditaria (DSH) [MIM# 127400] is a rare genetic disorder of cutaneous pigmentation with an autosomal dominant pattern of inheritance, which was first reported in Japanese by Toyama in 1910. The patients are mainly Japanese and Chinese. The characteristic skin lesions are mixture of pigmented and depigmented macules mainly affecting the dorsa of the hands.
In our laboratory, the causative gene of DSH was identified as ADAR1 by positional cloning including linkage analysis in 2003. (Miyamura et al. Am J Hum Genet. 2003) ADAR1 encodes adenosine deaminase acting on RNA 1 gene (ADAR1), which is one of RNA editing enzyme..
Recently, it was clarified that bi-allelic ADAR1 mutations cause Aicardi-Goutières syndrome 6 (AGS6), a genetic inflammatory disorder ,which affects the nervous system and which show mental retardation and brain calcification. We have reported a first case of DSH with AGS6 resulted from compound heterozygous ADAR1 mutation. (Kono et al. J Invest Dermatol. 2016)
We are working for clarifying further understanding of pathogenesis of DSH and developing effective therapy.
ii) Research for pathogenesis of reticulate acropigmentation of Kitamura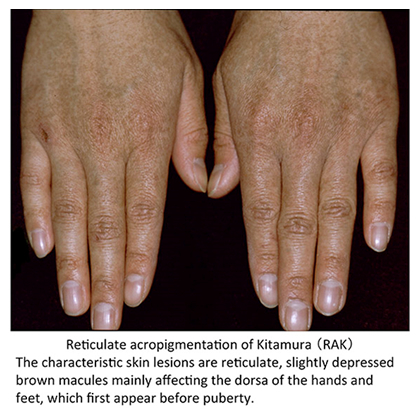 al dominant pattern of inheritance, which was first reported in Japanese by Kitamura in 1942. The characteristic skin lesions aral dominant pattern of inheritance, which was first reported in Japanese by Kitamura in 1942. The characteristic skin lesions are reticulate, slightly depressed brown macules mainly affecting the dorsa of the hands and feet, which first appear before puberty.
We have reported that ADAM10 mutations caused RAK in 2013 (Kono et al, Hum Mol Genet 2013). We performed exome sequencing of family members in a Japanese pedigree with RAK. ADAM10 encodes a zinc metalloprotease, a disintegrin and metalloprotease domain-containing protein 10 (ADAM10). ADAM10 is known to be involved in the ectodomain shedding of various substrates in the skin.
We are working for elucidating how heterozygous ADAM10 mutation causes RAK.
iii) Genetic testing of hereditary pigmentary disorders
We provide the genetic testing of various hereditary pigmentary disorders including DSH and RAK. We also provide the genetic testing of restrictive dermopathy.
4. Innovation of novel strategies for treatments of skin malignancies
Treatments for malignant melanoma have developed mainly in the skin surgery field. Recently, operations for malignant melanoma have changed from radical resections to low invasive operations. Sentinel lymph node biopsy is often performed in malignant melanoma cases. It is still controversial whether a regional lymph node dissection is beneficial for the patients with very tiny lymph node metastases in the sentinel lymph nodes, or not. In addition, even in cases with apparent sentinel lymph node metastases, the extent and procedures for lymph node dissection have not been established yet. Concerning to the number of cases with malignant skin tumors treated in a single institute, our department is one of the top institutes in Japan. In the skin surgery field, we aim at establishment of optimal operation procedures for tumor resection and sentinel lymph node biopsies in cases of malignant melanoma and extramammary Paget's disease. In the cutaneous oncology field, we have performed and will be engaged in many clinical trials of immune checkpoint inhibitors and molecular targeting therapeutic agents for malignant melanoma in order to develop optimal regimens.
Faculty Members
Bibliography
2016

Takeichi T, Sugiura K, Nomura T, Sakamoto T, Ogawa Y, Oiso N, Futei Y, Fujisaki A, Koizumi A, Aoyama Y, Nakajima K, Hatano Y, Hayashi K, Ishida-Yamamoto A, Fujiwara, S, Sano S, Iwatsuki K, Kawada A, Suga Y, Shimizu H, McGrath JA, Akiyama M. Pityriasis rubra pilaris type V as an autoinflammatory disease by CARD14 mutations. JAMA Dermatol, in press.
Inoue H, Park J-H, Kiyotani K, Zewde M, Miyashita A, Jinnin M, Kiniwa Y, Okuyama R, Tanaka R, Fujisawa Y, Kato H, Morita A, Asai J, Katoh N, Yokota K, Akiyama M, Ihn H, Fukushima S, Nakamura Y. Intratumoral expression levels of PD-L1, GZMA, and HLA-A along with oligoclonal T cell expansion associate with response to nivolumab in metastatic melanoma. OncoImmunology 2016; 5: e1204507.
Zhong FL, Mamaï O, Sborgi L, Boussofara L, Hopkins R, Robinson K, Szeverényi I, Takeichi T, Balaji R, Lau A, Tye H, Roy K, Bonnard C, Ahl PJ, Jones LA, Baker P, Lacina L, Otsuka A, Fournie PR, Malecaze F, Lane EB, Akiyama M, Kabashima K, Connolly JE, Masters SL, Soler VJ, Omar SS, McGrath JA, Nedelcu R, Gribaa M, Denguezli M, Saad A, Hiller S, Reversade B. Germline NLRP1 mutations cause skin inflammatory and cancer susceptibility syndromes via inflammasome activation. Cell, 2016; 167: 187-202. e17.
Takeichi T, Liu L, Abdul-Wahab A, McMillan JR, Stone KL, Akiyama M, Simpson MA, Parsons M, Mellerio JE, McGrath JA. Large intragenic KRT1 deletion underlying atypical autosomal dominant keratinopathic ichthyosis. J Invest Dermatol, 2016; 136: 2095-2098.
Kono M, Matsumoto F, Suzuki Y, Suganuma M, Saitsu H, Ito Y, Fujiwara S, Moriwaki S, Matsumoto K, Matsumoto N, Tomita Y, Sugiura K, Akiyama M. Dyschromatosis symmetrica hereditaria and Aicardi-Goutières syndrome 6 are phenotypic variants caused by ADAR1 mutations. J Invest Dermatol, 2016; 136: 875-878.

2015

Ohno Y, Nakamichi S, Ohkuni A, Kamiyama N, Naoe A, Tsujimura H, Yokose U, Sugiura K, Ishikawa J, Akiyama M, Kihara A. Essential role of the cytochrome P450 CYP4F22 in the production of acylceramide, the key lipid for skin permeability barrier formation. Proc Natl Acad Sci USA, 2015; 112: 7707-7712.
Muro Y, Hosono Y, Sugiura K, Ogawa Y, Mimori T, Akiyama M. Anti-PM/Scl antibodies are found in Japanese patients with various systemic autoimmune conditions besides myositis and scleroderma. Arthritis Res Ther, 2015; 17: 57.
Yokota K, Sawada M, Matsumoto T, Hasegawa Y, Kono M, Akiyama M. Lymphatic flow is mostly preserved after sentinel lymph node biopsy in primary cutaneous malignant melanoma. J Dermatol Sci, 2015; 78: 101-107.

2014

Akiyama M. The roles of ABCA12 in epidermal lipid barrier formation and keratinocyte differentiation. BBA-Mol Cell Biol L, 2014; 1841: 435-440.
Shimizu Y, Ogawa Y, Sugiura K, Takeda J, Sakai-Sawada K, Yanagi T, Kon A, Sawamura D, Shimizu H, Akiyama M. A palindromic motif in the -2084 to -2078 upstream region is essential for ABCA12 promoter function in cultured human keratinocytes. Sci Rep, 2014; 4: 6737.
Muro Y, Nakashima R, Hosono Y, Sugiura K, Mimori T, Akiyama M. Autoantibodies to DNA mismatch repair enzymes in polymyositis/dermatomyositis and other autoimmune conditions: a possible marker of favorable prognosis. Arthritis Rheumatol, 2014; 66: 3457-3462.
Petrof G, Nanda A, Howden J, Takeichi T, McMillan JR, Aristodemou S, Ozoemena L, Liu L, South AP, Pourreyron C, Dafou D, Proudfoot LE, Al-Ajmi H, Akiyama M, McLean WHI, Simpson MA, Parsons M, McGrath JA. Mutations in the Grainyhead-like 2 transcription factor result in an autosomal recessive ctodermal dysplasia syndrome. Am J Hum Genet, 2014; 95: 308-314.
Sugiura K, Oiso N, Iinuma S, Matsuda H, Minami-Hori M, Ishida-Yamamoto A, Kawada A, Iizuka H, Akiyama M. IL36RN mutations underlie impetigo herpetiformis. J Invest Dermatol, 2014; 134: 2472-2474.
Ogawa Y, Takeichi T, Kono M, Hamajima N, Yamamoto T, Sugiura K, Akiyama M. Revertant mutation releases confined lethal mutation, opening Pandora's box: a novel genetic pathogenesis. PLoS Genet, 2014; 10: e1004276.
Sugiura K, Muto M, Akiyama M. CARD14 c.526G>C (p.Asp176His) is a significant risk factor for generalized pustular psoriasis with psoriasis vulgaris in the Japanese cohort. J Invest Dermatol, 2014; 134: 1755-1757.
Kono M, Nomura T, Oguchi Y, Mizuno O, Suzuki S, Tsujiuchi H, Hamajima N, McLean WHI, Shimizu H, Akiyama M. Comprehensive screening for a complete set of Japanese-population-specific filaggrin gene mutations. Allergy, 2014; 69: 537-540.

2013

Kono M, Sugiura K, Suganuma M, Hayashi M, Takama H, Suzuki T, Matsunaga K, Tomita Y, Akiyama M. Whole-exome sequencing identifies ADAM10 mutations as a cause of reticulate acropigmentation of Kitamura, a clinical entity distinct from Dowling-Degos disease. Hum Mol Genet, 2013; 22: 3524-3533.
Sugiura K, Takemoto A, Yamaguchi M, Takahashi H, Shoda Y, Mitsuma T, Tsuda K, Nishida E, Togawa Y, Nakajima K, Sakakibara A, Kawachi S, Shimizu M, Ito Y, Takeichi T, Kono M, Ogawa Y, Muro Y, Ishida-Yamamoto A, Sano S, Matsue H, Morita A, Mizutani H, Iizuka H, Muto M, Akiyama M. The majority of generalized pusular psoriasis without psoriasis vulgaris is caused by deficiency of interleukin-36 receptor antagonist. J Invest Dermatol, 2013; 133: 2514-2521.
Matsumoto T, Yokota K, Sawada M, Sakakibara A, Shibata S, Yasue S, Tomita Y, Yatsuya H, Akiyama M. Postoperative DAV-IFN-β therapy does not improve survival rates of stage II and stage III melanoma patients significantly. J Eur Acad Dermatol Venereol, 2013; 27: 1514-1520.

2012

Pohler E, Mamai O, Hirst J, Zamiri M, Horn H, Nomura T, Irvine AD, Moran BE, Wilson NJ, Smith FJD, Goh CSM, Sandilands A, Cole C, Barton GJ, Evans AT, Shimizu H, Akiyama M, Suehiro A, Konohana I, Shboul M, Teissier, Boussofara L, Denguezli M, Saad A, Gribaa M, Dopping-Hepenstal PJ, McGrath JA, Brown SJ, Goudie DR, Reversade B, Munro CS, McLean WHI. Haploinsufficiency for AAGAB causes clinically heterogeneous forms of punctate palmoplantar keratoderma. Nat Genet, 2012; 44: 1272-1276.
Sugiura K, Takeichi T, Kono M, Ito Y, Ogawa Y, Muro Y, Akiyama M. Severe chilblain lupus is associated with heterozygous missense mutations of catalytic amino acids or their adjacent in the exonuclease domains of 3'-repair exonuclease 1. J Invest Dermatol, 2012; 132: 2855-2857.
Muro Y, Sugiura K, Hoshino K, Akiyama M. Disappearance of anti-MDA-5 autoantibodies in clinically amyopathic DM/interstitial lung disease during disease remission. Rheumatology (Oxford), 2012; 51: 800-804.

2011

Muro Y, Sugiura K, Hoshino K, Akiyama M, Tamakoshi K. Epidemiologic study of clinically amyopathic dermatomyositis and anti-melanoma differentiation-associated gene 5 antibodies in central Japan. Arthritis Res Ther, 2011; 13: R214.

2010

Hoshino K, Muro Y, Sugiura K, Tomita Y, Nakashima R, Mimori T. Anti-MDA5 and anti-TIF1-gamma antibodies have clinical significance for patients with dermatomyositis. Rheumatology (Oxford), 2010; 49: 1726-1733.
Ogawa Y, Nonaka Y, Goto T, Ohnishi E, Hiramatsu T, Kii I, Yoshida M, Ikura T, Onogi H, Shibuya H, Hosoya T, Ito N, Hagiwara M. Development of a novel selective inhibitor of the Down syndrome-related kinase Dyrk1A. Nat Commun, 2010; 1: 86.
Research Keywords
Inherited skin disease、 ichthyosis、 harlequin ichthyosis、 palmoplantar keratoderma、 keratinizing disorder、 pityriasis rubra pilaris、 autoinflammatory disease、 autosomal recessive woolly hair、 mutation、 generalized pustular psoriasis、 Autoimmune rheumatic disease、 Dermatomyositis、 Systemic sclerosis、 Sjögren's syndrome、 DFS70、 anti-nuclear antibody、 highly sensitive ELISA、 disease-specific autoantibody、 ADAR1、 ADAM10、 Aicardi-Goutières syndrome、 dyschromatosis symmetrica hereditaria、 reticulate acropigmentation of Kitamura、 Malignant melanoma、 extramammary Paget's disease、 sentinel lymph node biopsy、 immune checkpoint inhibitor、 interferonβ