Head and Neck and Sensory Organ Medicine

Otorhinolaryngology
Introduction
Main research in our department has been otology and audiology. Recent technological development has been contributed to elucidate mechanisms of various inner ear disturbances. A representative investigation we are now focusing on is visualization of endolymphatic hydrops, which has recently become possible using 3T MRI with contrast agents. We have reported EH-related studies, which are cutting edge for the diagnosis of Meniere's disease. Epidemiological investigation on idiopathic sudden deafness has been performed from the point of genetic polymorphism. Besides otological or audiological fields, the department has also put efforts into head and neck surgery and related investigations.
Research Projects
1. Investigation of mechanisms related to middle and inner disorders and therapy
 i) Epidemiological research
  As the member of Acute Profound Deafness Research Committee of the Ministry of Health, Labour and Welfare in Japan, we have been investigated epidemiological surveys of hospitals and private clinics in Japan regarding idiopathic sudden sensorineural hearing loss. We have independently studied hearing-loss related surveys from the point of genetic polymorphism.
 ii) Evaluation of inner ear on MRI
  Visualization of endolymphatic hydrops has become available using 3T MRI with contrast agents (Figure 1). We have investigated the existence of endolymphatic hydrop in various ear disorders. We evaluate breakdown of blood-labyrinth barrier, which could be a factor for predicting prognosis of inner ear disturbances (Figure 2). The evaluation is also available to avoid complications following surgeries for cholesteatomas with labyrinthine fistulae.
 iii) Evaluation of blood flow in the middle and inner ears
  We have measured blood flows in the middle or inner ear during ear surgeries, and evaluated disturbance and activity of ear disorders.
 iv) Evaluation of balance function
 v) Local application of drugs for inner ear diseases
  Intra-tympanic gentamycin treatment for Meniere's disease or Intra-tympanic steroid treatment for acute sensorineural hearing loss are representative therapy of local application of drugs. We have evaluated efficacy of such therapy combining with movement of applied drugs into the inner ear.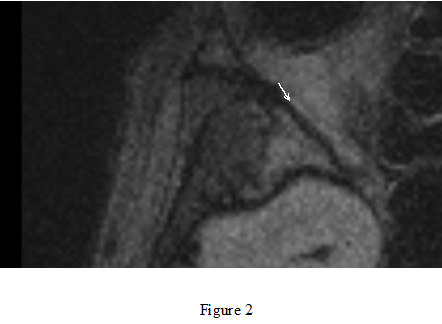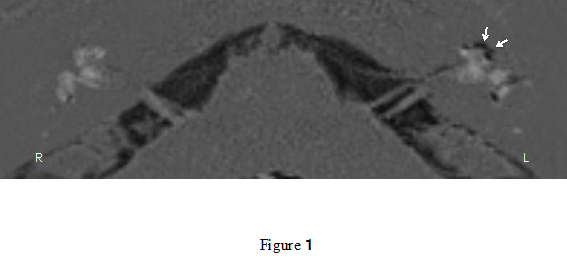 2. Head and neck surgery and related investigation
Faculty Members
Bibliography
2018

oide Y, Teranishi M, Sugiura S, Uchida Y, Nishio N, Kato K, Otake H, Yoshida T, Otsuka R, Ando F, Shimokata H, Hasegawa Y, Nakashima T, Sone M: Association between Uncoupling Protein 2 Gene Ala55val Polymorphism and Sudden Sensorineural Hearing Loss J Int Adv Otol 14(2): 166-169, doi:10.5152/iao.2018.5442, PMID:30100544 Free PMC Article, 2018
Maruo T, Sakuraba M, Shinozaki T, Tomioka T, Okano W, Arahira S, Iino Y, Hayashi R: Swallowing disorder following salvage total pharyngo-laryngo-esophagectomy with free jejunum reconstruction Oncol Lett 15(5): 7355-7361, doi:10.3892/ol.2018.8213, 2018
Mukoyama N, Suzuki H, Hanai N, Sone M, Hasegawa Y: Pathological tumor volume predicts survival outcomes in oral squamous cell carcinoma Oncol Lett 16(2): 2471-2477, doi:10.3892/ol.2018.8951, PMID:30013639, 2018
Nishio N, Fujimoto Y, Hiramatsu M, Maruo T, Tsuzuki H, Mukoyama N, Shimono M, Sone M, Kawabe Y, Saito K, Fujii M, Nakashima T: Maxillary sinus carcinoma outcomes over 60 years: experience at a single institution Nagoya J Med Sci 80(1): 91-98, 2018
Nishio N, Fujimoto Y, Hiramatsu M, Yamamoto Y, Sone M: Sonographic detection of a lingual nodal metastasis from early cancer of the tongue Journal of Clinical Ultrasound 46: 69-72, DOI:10.1002/jcu.22486, 2018
Sugimoto S, Yoshida T, Teranishi M, Kobayashi M, Shimono M, Naganawa S, Sone M: Significance of Endolymphatic Hydrops Herniation Into the Semicircular Canals Detected on MRI Otol Neurotol 39(10): 1229-1234, 2018
Sugimoto S, Yoshida T, Teranishi M, Okazaki Y, Naganawa S, Sone M: The relationship between endolymphatic hydrops in the vestibule and low-frequency air-bone gaps Laryngoscope 128(7): 1658-1662, 2018
Wang F, Yoshida T, Shimono M, Sugimoto S, Teranishi M, Naganawa S, Sone M: Significance of internal auditory canal diverticula in ears with otosclerosis Acta Otolaryngol 138(12): 1066-1069, 2018
小林万純,柘植勇人,三宅杏李,曾根三千彦: 補聴器両耳装用により語音弁別能が著明改善した症 例の検討 日本耳鼻咽喉科学会会報 121(10): 1273-1278, 2018
下野真理子,中村一博,藤本保志,小林万純,木下 稚子,横井紗矢香,西尾直樹,丸尾貴志,平松真理子, 澤木優治,原 大介,門野 泉,渡辺宏久,曾根 三千彦: 咽頭筋ジストロフィーに伴う声帯萎縮に対して甲状 軟骨形成術Ⅰ+Ⅲ型を施行した1例 耳鼻と臨床 64(5): 189-196, 2018
下野真理子,曾根三千彦: Q16. 突発性難聴と診断されました.入院しなけれ ばなりませんか? 患者・家族への説明ガイド 耳鼻咽喉科・頭頸部外科 90(5): 32-33, 2018
曾根三千彦: メニエール病の診断 日本耳鼻咽喉科学会会報 121: 1051-1055, 2018
曾根三千彦: めまいの画像診断:末梢性めまいの画像評価 Equilibrium Res 77: 579-582, 2018
曾根三千彦: 急性感音難聴の診断と治療 日本耳鼻咽喉科学会会報 121(3): 242-244, 2018
寺西正明,曾根三千彦: Gd静注法によるMRIと内リンパ水腫 Equilibrium Research 77: 99-103, 2018
平松真理子: 経口的内視鏡下下咽頭切除術─始める前に知ってお きたいこと,咽喉頭・食道の経口手術・ロボット支 援手術 日本気管食道科学会会報 69(2): 104-106, 2018
藤本保志: 嚥下手術 私の術式(series 12) 喉頭亜全摘出術 における誤嚥防止の工夫 嚥下医学 7(1): 50-58, 2018
横井紗矢香,西尾直樹,藤本保志,向山宣昭,木下 雅子,曾根三千彦: 頸部に発生した巨大異所性過誤腫性胸腺腫例 耳鼻臨床 111(9): 645-649, 2018

2017

Morimoto K, Yoshida T, Sugiura S, Kato M, Kato K, Teranishi M, Naganawa S, Nakashima T, Sone M: Endolymphatic hydrops in patients with unilateral and bilateral Meniere's disease, Acta Otolaryngol, 137(3):23-28, 2017
Nishio N, Fujimoto Y, Hiramatsu M, MaruoT, Suga K, Tsuzuki H, Mukoyama N, Shimono M, Toriyama K, Takanari K, Kamei Y, Sone M: Computed tomographic assessment of autologous fat injection augmentation for vocal fold paralysis, Laryngoscope Investing Otolaryngol, 2(6): 459-465, 2017
Okazaki Y,Yoshida T,Sugimoto S, Teranishi M,Kato K,Naganawa S, Sone M: Significance of Endolymphatic Hydrops in Ears With Unilateral Sensorineural Hearing Loss, Otol Neurotol, 38(8): 1076-1080, 2017
Sone M, Yoshida T, Sugimoto S, Morimoto K, Okazaki Y, Teranishi M, Naganawa S, Nakashima T: Magnetic resonance imaging evaluation of endolymphatic hydrops and post-operative findings in cases with otosclerosis, Acta Otolaryngol, 137(3):242-245,2017
Yoshida T, Sone M,Kitoh R, Nishio SY, Ogawa K, Kanzaki S, Hato N, Fukuda S, Hara A, Ikezono T, Ishikawa K, Iwasaki S, Kaga K, Kakehata S, Matsubara A, Matsunaga T, Murata T, Naito Y, Nakagawa T, Nishizaki K, Noguchi Y, Sano H, sato H, Suzuki M, Shojaku H, Takahashi H, Takeda H, Tono T, Yamashita H, Yamasoba T, Usami SI: Idiopathic sudden sensorineural hearing loss and acute low-tone sensorineural hearing loss: a comparison of the results of a nationwide epidemiological survey in Japan, Acta Otolaryngol, 137(supple): s38-s43, 2017

2016

Sone M, Yoshida T, Sugimoto S, Morimoto K, Okazaki Y, Teranishi M, naganawa S, Nakashima T .Magnetic resonance imaging evaluation of endolymphatic hydrops andpost-operative findings in cases wih otosclerosis.Acta Otolaryngol,2016;Sep27:1-4
Morimoto K, Yoshida T, Sugiura S, kato M, Kato K, Teranishi M, Naganawa S, Nakashima T, Sone M.Endolymphatic hydrops in patients with unilateral and bilateral Meniere's disease.Acta Otolaryngol,2016;39:1464-1470
Sone M, Yoshida T, Morimoto K, Teranishi M, Nakashima T, Naganawa S.Endolymphatic hydrops in superior canal dehiscence and large vestibular aqueduct syndromes.Laryngoscope,2016;126:1446-1450
Nishio N, Fujimoto Y, Suga K, Iwata Y, Toriyama K, Takanari K, Kamei Y, Yamamoto T, gotoh M.Autologous fat injection therapy including a high concentration of adipose-derived regenerative cells in a vocal paralysis model:animal pilot study.J Laryngol Otol,2016;Sep 8:1-9

2015

Suga K, Kato M, Yoshida T, Nishio N, Nakada T, Sugiura S, Otake H, Kato K, Teranishi M, Sone M, Naganawa S, Nakashima T.Changes in endolymphatic hydrops in patients with Meniere's disease treated conservatively for more than 1 year.Acta otolaryngol,2015;135,866-870
Mukaida T, Sone M, Yoshida T, Kato K, Teranishi M, Naganawa S, Nakashima T.Magnetic resonance imaging evaluationof endolymphatic hydrops in cases with otosclerosis.Otol Neurotol,2015;36,1146-1150
Nishio N, Fujimoto Y, Fujii M, Saito K, Hiramatsu M, Maruo T, Iwami K, Kamei Y, Yagi S, Takahashi M, Hayashi Y, Ando A, Nakashima T.Craniofacial Resection for T4 Maxillary Sinus Carcinoma: Managing Cases with Involvement of the Skull Base.Otolarngol - Head and Neck Surgery,2015;153,231-238
Yoshida T, Sone M, Naganawa S, Nakashima T:Patient with an SLC26A4 gene mutation who had low-frequency snsorineural hearing loss and endolymphatic hydrops.J Laryngol Otol,2015;129:95-97

2014

Fujimoto Y, Kato S, Itoh Y, Naganawa S, Nakashima T: A phase I study of concurrent chemoadiotherapy using oral s-1 for head and neck cancer. Anticancer Res,2014; 34,209-213
Maruo T, Fujimoto Y, Yoshida K, Hiramatsu M,Suzuki A, Nishio N, Shimono M, Nakashima T: Effect of clinical symptoms on the indication for selective neck dissection for NO carcinomas of the parotid gland. Oncol Lett,2014; 8: 335-338
Maruo T, Fujimoto Y, Ozawa K, Hiramatsu M,Suzuki A, Nishio N, Nakashima T: Laryngeal sensation and pharyngeal delay time after (chemo) radiotherapy. Eur Arch Otorhinolaryngol,2014;271: 2299-2304
Nakada T, Yoshida T, Suga K, Kato M, Otake H, Kato K, Teranishi M, Sone M, Sugiura S, Kuno K, Pyykko I, Naganawa S, Watanabe H, Sobue G, Nakashima T: Endolymphatic space size in patients with vestibular migraine and Meniere's disease. J Neurol ,2014;261: 2079-2084
Nakashima T, Sato H, Gyo K, Hato N, Yoshida T, Shimono M, Teranishi M, Sone M, Fukunaga Y, Kobashi G, Takahashi K, Mtsui S, Ogawa K: Idiopathic sudden sensorineural hearing loss in Japan. Acta Otolaryngol,2014; 134: 1158-1163
Nishio N, Fujimoto Y, Nakashima T: Inflammatory pseudotumor of the infratemoiral fossa leading to orbital apex syndrome. J Craniofac Surg,2014; 25: 1324-1326
Otake H, Suga K, Suzuki H, Nakda T, Kato K, Yoshida T, Ternishi M, Sone M, Nakashima T: Antimicrobial prophylaxis in tonsillectomy: the efficacy of preperative single-dose oral administra tion of azithromycin in preventing surgical site infection. Acta Otolaryngol,2014;134:181-184
Sugimoto S, Fukunaga Y, Katayama N, Yoshida T, Teranishi M, Sugiura S,  Uchida Y, Kamiya H, Oiso Y, Nakashima T: Factors contributing to postrural Sway in patients with diabetes in an in-hospital education program .Audiol Neurotol Extra,2014;4;23-32

2013

Iida T, Teranishi M,Yoshida T, Otake H, Sone M, Kato M, Shimono M, Yamazaki M, Naganawa S, Nakashima T: Magnetic resonance imaging of the inner ear after both intratympanic and intravenous gadolinium injections. Acta Otolaryngol,2013;133: 434-438
Kato K, Otake H, Tagaya M, Takahashi Y, Ito Y, Hama A, Muramatsu H, Kojima S, Naganawa S, Nakashima T: Progressive hearing loss followig acquired cytomegalovirus infection in an immunocompromised child .Am J Otolaryngol,2013;34:89-92
Kato M, Sugiura M, Shimono M, Yoshida T, Otake H, Kato K, Teranishi M, Sone M, Yamazaki M, Naganawa S, Nakashima T: Endolymphatic hydrops revealed by magnetic resonance imaging in patients with atypical Meniere's disease .Acta Otolaryngol,2013;133:123-129
Maruo T, Fujimoto Y, Ozawa K, Hiramatsu M, Suzuki A, Nishio N, Nakashima T: Laryngeal sensation and pharyngeal delay time after (chemo) radiotherapy .Eur Arch Otorhinolaryngol,2013;271:2299-2304

2012

Hiramatsu M, Teranishi M, Uchida Y, Nishio N, Suzuki H, Kato K, Otake H, Yoshida T, Tagaya M, Suzuki H, Sone M, Sugiura S, Ando F, Shimokata H, Nakashima T: Polymorphisms in genes involved in inflammatory pathways in patients with sudden sensorineural hearing loss. J Neurogenet,2012;26: 387-396
Kato K, Yoshida T, Teranishi M, Sano R, Otake H, Sone M, Nakashima T: Peak with in multifrequency tympanometry and endolymphatic hydrops revealed by magnetic resonance imaging. Otol Neurotol,2012;33:912-915
Nakashima T, Hattori T, Sone M, Asahi K, Matsuda N, Teranishi M, Yoshida T, Kato K, Sato E: Cochlear blood flow and speech perception ability in cochlear implant users. Otol Neurotol,2012; 33: 165-168
Nakashima T, Sone M, Teranishi M, Yoshida T, Terasaki H, Kondo M, Yasuma T, Wakabayashi T, Nagatani T, Naganawa S: A Perspective from magnetic resonance imaging findings of the inner ear: Relationships among cerebrospinal, ocular and inner ear fluids. Auris Nasus Larynx,2012; 39: 345-355
Nishio N, Teranishi M, Uchida Y, Sugiura S, Ando F, Shimokata H, Sone M, Otake H, Kato K, Yoshida T, Tagaya M, Hibi T, Nakashima T: Contribution of complement factor H Y402H polym morphism to sudden sensoroineural hearing loss risk and possible interaction with diabetes. Gene,2012; 499: 226-230
Sano R, Teranishi M, Yamazaki M, Isoda H, Naganawa S, Sone M, Hiramatsu M, Yoshida T, Suzuki H, Nakashima T: Contrast enhancement of the inner ear in magnetic resonance images take at 10 minutes or 4 hours after intravenous gadolinium injection .Acta Otolaryngol,2012;132: 241-246
Sone M, Yoshida T, Naganawa S, Otake H, Kato K, Sano R, Teranishi M, Nakashima T: Comparison of computed tomography and magnetic resonance imaging for evaluation of cholesteatoma with labyrinthine fistulae. Laryngoscope,2012;122: 1121-1125
Research Keywords
hearing loss、 inner ear、 imaging analysis、 MRI、 blood flow、 epidemiological survey