Medicine in Growth and Aging

Community Healthcare and Geriatrics
Introduction
With the ever increasing needs of an aging society there is a dire shortage of Clinicians and Researchers.In this department research is conducted encompassing a wide spectrum of Older Adult medical care,leading to an environment where a great deal of freedom is allowed in researching individual fields of interest.We are strongly interested in graduate students who will join us in working in this important field.Those interested are encouraged to contact the department.
Research Projects
1. Exercise Interventions for Preventing Dementia and Frailty, Sarcopenia
It has been suggested that physical exercise is beneficial for preventing dementia and frailty, sarcopenia in older adults, but it is unclear what types of exercises are more effective. Many evidences indicate that two main types of physical exercise have protective effects against cognitive and physical decline: aerobic training and resistance training. We designed a randomized controlled trial (RCT) to investigate differential effects of aerobic training, resistance training, and combined training on cognitive and physical function in older adults. The outcomes include cognitive functions, physical functions, blood markers, brain images and so on. The results of effective exercise regimens using RCTs are necessary for developing programs to target dementia and frailty, sarcopenia.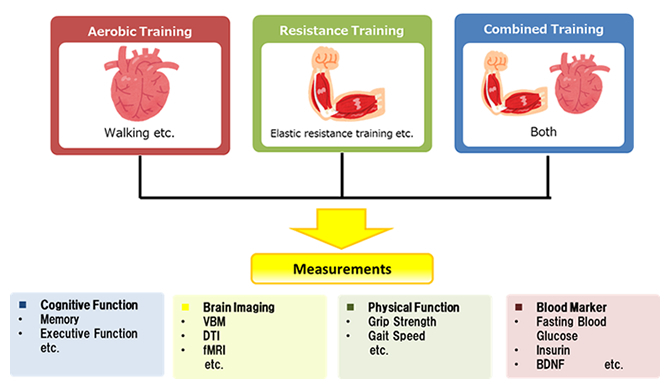 2. The prospective cohort study of frailty and sarcopenia
We are conducting the Nagoya Longitudinal Study for Healthy Elderly (NLS-HE), which was designed to identify the causes and background risk factors associated with the transition from healthy robust status to prefrailty status and from prefrailty status to frailty status using participants who appeared to be in good health at baseline. Participants in this study were students or graduates in a community college for the elderly in Nagoya, Japan. The community college offers two-year programs for older residents of Nagoya aged 60 years or older.
3. Organized Registration for the Assessment of dementia on Nation-wide General consortium toward Effective treatment in Japan
Mild cognitive impairment patients will be registered in nation-wide. The prospective cohort study will be performed.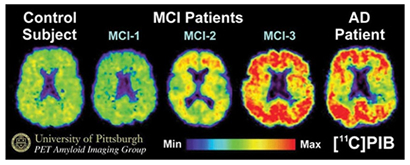 4. Insulin resistance and dementia
Insulin resistance (IR) is involved in the mechanism of cognitive impairment including Alzheimer disease. Outpatient cohort study are ongoing to resolve how IR induce cognitive impairment.
5. Study for improvement of QOL in home medical care
It is most important to keep and improve QOL in home medical care. We developed the assessment sheet to assess QOL in patients with home medical care. The methods for good practice in home medical care are explored.
6. Dementia and Geriatric syndrome
Demented elderly often have geriatric syndrome. The association between dementia and geriatric syndrome is important issue in the geriatric field.
7. Community Medicine, Medical and Long-term Care Network System, Integrated Community-based Medicine
We have researched Community Medicine, Medical and Long-term Care Network System, Integrated Community-based Medicine using Comprehensive Geriatric Assessment (CGA). The joint researches are welcome.


8. Basic research on the pathogenesis of sarcopenia
1) Exercise training (ET) and bone-marrow cell transplantation (BMCT) have been shown to stimulate vascular repair in pathological conditions, including aging. Here, we aimed to clarify the benefits and mechanisms of both the preventive effects of long-term ET- and BMCT-mediated muscle regeneration actions on sarcopenia in a senescence-associated mouse prone 10 (SMAP10) model.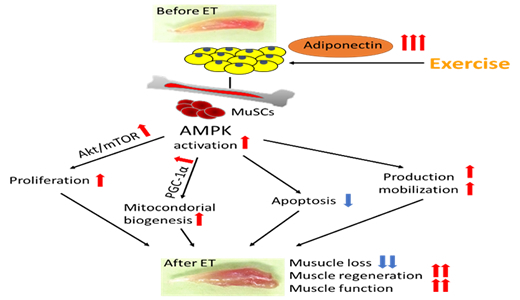 2) To clarify the mechanism of skeletal muscle regeneration related with sarcopenia, we are examining the role of proteinases including matrix metalloproteinase (MMPs) and various cathepsin family, as well as novel growth factor (GFX), which we have found recently, on the regeneration of skeletal muscle using mice model and cell culture system.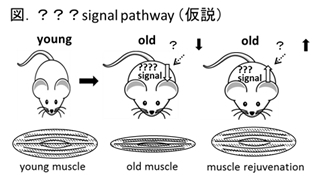 9. The Role of Cathepsins S/K in Cardiovascular Disease
Cathepsins of the cysteine protease family were originally identified as proteases acting in the lysosome. Among cathepsins, cathepsins S (CstS and CtsK) are primarily intracellular proteases that function in terminal protein degradation in lysosomes. Recently, CtsS and CtsK have been implicated cardiovascular disease initiation and progression. However, the roles of CtsS and CtsK in ischemic angiogenesis remain largely uncertain.
10. The Roles of Dipeptidyl Peptidase 4 on Stress-Related Cardiovascular Disease
Exposure to chronic psychosocial stress is a risk factor for many diseases, including vascular aging and metabolic disorder. The majority of studies that examine the impact of stress on cardiovascular system have focused on activated hypothalamic-pituitary-adrenocortical and sympatho-adrenomedullary axes. Here, we have focused to study the role of dipeptidyl peptidase-4 (DPP4) in vascular aging and cardiovascular disease under chronic stress.
11. The Role of GFx in Cardiovascular Disease and Treatment
Although apoptosis and cell proliferation have been extensively investigated in atherosclerosis and restenosis after injury, the communication between these two cellular events has not been evaluated. Recently, we have identified a key communicator (called GFx) between both cellular events. Thus, the aim of this study is investigated whether GFx will be a therapeutic target for management of hyperproliferative cardiovascular disease.
Faculty Members
Bibliography
2016

Inoue A, Cheng XW, Huang Z, Hu L, Kikuchi R, Jiang H, Piao L, Sasaki T, Itakura K, Wu H, Zhao G, Lei Y, Yang G, Zhu E, Li X, Sato K, Koike T, Kuzuya M. Exercise Restores Muscle Stem Cell Mobilization and Regenerative Capacity and Muscle Metabolic Alterations via Adiponectin/AdipoR1 Activation in SAMP10 mice. Journal of Cachexia, Sarcopenia and Muscle, 2016; acceptance.
Umegaki H, Asai A, Kanda S, Maeda K, Shimojima T, Nomura H, Kuzuya M. Factors associated with unexpected admissions and mortality among low-functioning older patients with home medical care. Geriatr Gerontol Int. , 2016; in press, 2016.
Zhao G, Cheng XW, Piao L, Lu L, Lei Y, Inoue A, Yang G, Ogasawara S, Wu H, Hao CN, Okumura K, Kuzuya M. The Soluble VEGF Receptor sFlt-1 Contributes to Impaired Neovascularization in Aged Mice. Aging and Disease, 2016; in press.
Matsushita E, Okada K, Ito Y, Satake S, Shiraishi N, Hirose T, Kuzuya M. Characteristics of Physical Prefrailty among Japanese Healthy Elderly. Geriatr Gerontol Int, 2016; in press.
Kamitani H, Umegaki H, Okamoto K, Kanda S, Asai A, Maeda K, Nomura H, Shimojima T, Suzuki Y, Ohshima H, Kuzuya M. Development and validation of a new quality of life scale for patients receiving home-based medical care: The Observational Study of Nagoya Elderly with Home Medical Care. Geriatr Gerontl Int, 2016; doi: 10.1111/ggi.12735.
Umegaki H. Therapeutic Potential of Antidiabetic Medications in the Treatment of Cognitive Dysfunction and Dementia. Drugs Aging., 2016; 33(6): 399-409, 2016.
Nakashima H, Umegaki H, Makino T, Kato K, Abe S, Suzuki Y, Kuzuya M. Neuroanatomical correlates of error types on the Clock Drawing Test in Alzheimer's disease patients. Geriatr Gerontol Int. , 2016; 16(7): 777-784, 2016.
Umegaki H, Asai A, Kanda S, Maeda K, Shimojima T, Nomura H, Kuzuya M. Risk factors for the discontinuation of home medical care among low-functioning older patients. J Nutr Health Aging, 2016; 20(4): 453-457.
Izumi Y, Hayashi M, Morimoto R, Cheng XW, Wu H, Ishii H, Yasuda Y, Goto M, Matsuo S, Oiso Y, Murohara T. Impact of circulating Cathepsin K on the coronary calcification and the clinical outcome in CKD patients. Heart & Vessels, 2016; 31(1) : 6-14.
Kozawa E, Cheng XW, Urakawa H, Arai E, Yamada Y, Kitamura S, Sato K, Kuzuya M, Ishiguro N, Nishida Y. Increased expression and activation of cathepsin K in human osteoarthritic cartilage and synovial tissues. Journal of Orthopaedic Research, 2016; 34(1) : 127-134.
Wu H, Cheng XW, Hu L, Takeshita K, Chen H, Du Q, Li X, Zhu E, Huang Z, Yisireyili M, Zhao G, Piao L, Inoue A, Jiang H, Lei Y, Zhang X, Liu S, Dai Q, Kuzuya M, Shi GP, and Murohara T. Cathepsin S Activity Controls Injury-Related Vascular Repair in Mice via the p38MAPK and PI3K−Akt/p-HDAC6 Signaling Pathway. Arteriosclerosis, Thromobosis, and Vascular Biology, 2016; 36(8) : 1549-1557.
Yisireyili M, Takeshita K, Hayashi M, Wu H, Uchida Y, Yamamoto K, Kikuchi R, Hao CN, Nakayama T, Cheng XW, Matsushita T, Nakamura S, Murohara T. Dipeptidyl peptidase- IV inhibitor alogliptin improves stressinduced insulin resistance and prothrombotic state in a murine model. Psychoneuroendocrinology, 2016; 73 : 186-195.
Onishi J. Daily Life Support for Older Adults Evaluated by Commissioned welfare volunteers.Clin Gerontol Geriatr, 2016; 7(3) : 69-71.
Hirano A, Umegaki H, Suzuki Y, Hayashi T, Kuzuya M.Effects of leisure activities at home on perceived care burden and the endocrine system of caregivers of dementia patients: a randomized controlled study. Int Psychogeriatr, 2016; 28(2):261-268.

2015

Umegaki H. Dementia: Type 2 diabetes has a slow and insidious effect on cognition. Nat Rev Neurol, 2015; 11(3): 127-128.
Maeda M, Hayashi T, Hattori Y, Kuzuya M. Intermittent high glucose implements stress-induced senescence in human vascular endothelial cells: role of superoxide production by NADPH oxidase. PLoS One, 2015; 10: e0123169-75.

2014

MakinoT, ※Umegaki H, Suzuki Y, Yanagawa M, Nonogaki Z, Nakashima H, Kuzuya M. Relationship between Small Cerebral White Matter Lesions and Cognitive Function in Patients with Alzheimer's Disease and Amnestic Mild Cognitive Impairment. Geriatr Gerontol Int. , 2014; 14(4): 819-826, 2014.
Hayashi T, Kubota K, Kawashima S, Sone H, Watanabe H, Ohrui T, Yokote K, Takemoto M, Araki A, Noda M, Noto H, Sakuma I, Yoshizumi M, Ina K, Nomura H; Japan CDM group. Efficacy of HMG-CoA reductase inhibitors in the prevention of cerebrovascular attack in 1016 patients older than 75 years among 4014 type 2 diabetic individuals. Int J Cardiol, 2014; 177(3) : 860-866.
Hayashi T, Kotani H, Yamaguchi T, Taguchi K, Iida M, Ina K, Maeda M, Kuzuya M, Hattori Y, Ignarro LJ. Endothelial cellular senescence is inhibited by liver X receptor activation with an additional mechanism for its atheroprotection in diabetes. Proc Natl Acad Sci U S A, 2014; 111(3) : 1168-1173.
Cheng XW, Sasaki T, Kuzuya M.The role of cysteinyl cathepsins in venous disorders. Thromb Haemost, 2014; 112(1) : 216-218.
Ina K, Hayashi T, Araki A, Kawashima S, Sone H, Watanabe H, Ohrui T, Yokote K, Takemoto M, Kubota K, Noda M, Noto H, Ding QF, Zhang J, Yu ZY, Yoon BK, Nomura H, Kuzuya M; Japan CDM Group. Importance of high-density lipoprotein cholesterol levels in elderly diabetic individuals with type IIb dyslipidemia: A 2-year survey of cardiovascular events.Geriatr Gerontol Int, 2014; 14(4) : 806-810.
Research Keywords
Geriatric medicine、 Frailty/Sarcopenia、 Dementia、 Home care medicine、 Medical and Long-term Care Network System、 Integrated Community-based Medicine、 Geriatric syndrome、 Geriatric Comprehensive Assessment、 Informal care、 Metabolic disorder (Diabetes mellitus、 Dyslipidemia)、 Atherosclerosis