Experience Reports (International Research Students) | 2015
Experience Report
Natasha Friend
University of Adelaide, Australia
Department: Oncology
Period of Stay: 2015/10/14 - 2015/10/31
I completed a two week laboratory placement with Prof Takashi Takahashi's molecular carcinogenesis research group in the Department of Oncology at Nagoya University. I conducted preliminary experiments in some of their human lung cancer cell lines as part of my PhD studies in the field of cancer genetics. I am very grateful to everyone in the laboratory that went out of their way to not only assist with my laboratory work, but also to make my stay as enjoyable as possible. The city of Nagoya was very easy to navigate and was fun to explore, especially in terms of all the wonderful Japanese cuisine! Overall, the trip was a very rewarding experience on many levels, including gaining experience working in a world-renowned cancer research laboratory, obtaining experimental results that will further my PhD project and, more broadly, learning about how research is conducted in another country. I cannot thank everyone in Prof Takahashi's research group and the staff of the International Office enough for their very kind hospitality during my stay.
Experience Report
Benjamin Leow
University of Adelaide, Australia
Department: Hematology and Oncology
Period of Stay: 2015/10/19 - 2015/10/30
My placement with the Department of Hematology and Oncology and the University of Nagoya was both enjoyable as well as an invaluable learning experience. The laboratory, headed by Professor Hitoshi Kiyoi, focuses on the effective treatment of AML, ALL and malignant lymphoma. This was well aligned with my current research studying drug resistance mechanisms in chronic myeloid leukaemia and acute lymphoblastic leukaemia. The patient derived xenograft models and drug screening methods used by the laboratory were state of the art, and during my brief placement I learnt many new techniques. Additionally, members of the host lab were very welcoming, and I made many new friends who I hope to see again some day.
Unlike many laboratories in my home country, almost all the staff of the Department of Haematology in Nagoya were clinicians. This made my visit quite unlike other laboratory positions I have previously had, which have been focused on basic science. My visit included not only laboratory work but also an amount of clinical placement, which was an enlightening experience. I learned much about the current therapies used, as well as current clinical challenges, which left me with a much greater understanding of patient therapies, as well as leaving me feeling energised for completing my own research when I returned to Australia.
I thank the University of Nagoya and the Department of Hematology for their support, and the amazing opportunity that was offered to me during my stay!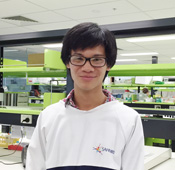 My experience at Nagoya University
Léa Schieffer
University of Strasbourg, France
Department: Laboratory of Tumor Pathology
Period of Stay: 2015/6/22 - 2015/7/31
I went to Nagoya with two classmates to do a 6-week internship in a laboratory in the frame of Strasbourg MD-phD program.
I worked in Pr M. Takahashi's laboratory where everyone there was really friendly and helpful. I have improved my skills and knowledges in research and learned many things on Japanese culture thanks to them and especially Masato Asai who I worked with. I was really part of the lab even if I stayed shortly and it has been a great experience.
Nagoya is a huge city compared to cities in France but I didn't felt uncomfortable and I could settle quickly there. Also the subway was really easy to use!
It is a really active city where there are each week new activities to do or things to see and with my classmates we visited really nice places in Nagoya. Also people are kind and polite, it was really nice.
I am grateful to Pr Aleksic and Kumiko Shimihota who planned our trip to Nagoya, also to Pr Takahashi for welcoming me in his laboratory and M. Asai who I worked with for the 6 weeks.
Experience Report
Gatien Begel
University of Strasbourg, France
Department: Neurogenetics
Period of Stay: 2015/6/22 - 2015/7/31
I was selected to do a research exchange with Nagoya University for my MD-PhD program and I took advantage of this fantastic chance! I was welcomed by the department of Neurogenetics led by Ohno-sensei. I was struck by the kindness and patience of the professor and other members of the laboratory, especially my supervisor Yamashita-sensei. We worked on his thesis project which dealt with an RNA binding factor involved in muscle cells differentiation.
People in the lab made the effort to communicate in English, which was very pleasant and respectful. Even though performing experiments in a foreign language first appeared worrying because English is not my mother tongue, I quickly got used to it and fully enjoyed this lab experience. The exchange itself enabled me to improve my scientific English level obviously.
This internship also helped me strengthen my practical skills and learn new biological techniques in the frame of the research project. One additional feature was the understanding of another culture and the discovery of a foreign country which is way different from mine on some points but very close on others.
I hope further exchanges will take place between Nagoya University and Strasbourg University as it is a fabulous adventure and experience for students. Welcoming Japanese students in our college would surely be as enriching for them as it was for me.
I would like to thank the Department of Neurogenetics and the staff at Nagoya University Graduate School of Medicine for providing me with the opportunity to undertake this lab experience.
Experience Report
Sara Imbs
University of Strasbourg, France
Department: Molecular Carcinogenesis
Period of Stay: 2015/6/22 - 2015/7/31
Nagoya Graduate School of Medicine was interested in doing an exchange with MD-PhD students from Strasbourg. I took this opportunity to take part to one of the research projects of the Molecular Carcinogenesis laboratory led by Takahashi-sensei.
I felt warmly welcomed by professors, students and other members of the laboratory. Fortunately, my supervisors wanted me to get the most out of my summer internship. I felt lucky that they really cared about my interests and wishes and trusted that an undergraduate was capable enough to contribute to their research project. They were extremely accommodating and open to having me assist them with their ongoing projects.
As usually in a laboratory, people were from different horizons and had different professional backgrounds. Some people in the laboratory were PhD, other MD PhD and it was interesting to talk to them, and about their professional paths. I had the chance to be confronted to the French and Japanese system and I found we can learn a lot from each other.
My 6 weeks internship in a laboratory of the Graduate School of Medicine University was part of my MD-PhD training. During that time I was able to use different laboratory techniques and had the opportunity to strengthen my formal knowledges. I could also discuss with my supervisors about scientific topics, and about Japanese culture. Indeed, they took me to different areas and taught me about so many things of Japanese culture, something that I would never been able to learn as a tourist visiting Japan. I definitely felt in love with Japanese culture especially food, temples, beautiful places… and looking forward to the time I will go back.
I strongly wish that we will keep exchanges between Strasbourg University and Nagoya University. That would be a great pleasure to welcome Japanese students so that they will have the chance to take advantage of this learning opportunity and get the possibility to try many experiences.
I would like to thank the Department of Molecular Carcinogenesis and the staff at Nagoya University Graduate School of Medicine for contributing to my memorable and full of learning's stay in Japan.