Experience Reports (for Nagoya University Students) | 2015
My experience at Tulane University
Ryosuke Ishikawa
I have finished my clinical clerkship at Tulane University in New Orleans, LA. It was so exciting and productive experience. New Orleans is a city in southern of the U.S and there are a lot of black people. New Orleans is famous as the birthplace of Jazz music and so the city is full of music and bounce. I have been there for three months, from April to July.
In the first month, I rotated in consult team of Pulmonary medicine and MICU. In consult team, I was assigned a patient with cystic fibrosis, which is rare in Japan. I interviewed the patient and made a presentation about him to my attending doctor every day. In MICU, I followed after the fellow doctor in the early morning every day. He taught me a lot so nicely, and MICU had so many patients that I could gain a lot of knowledge.
In the second month, I was assigned to Cardiology/CCU. I worked hard there because I'm interested in Cardiology. In Tulane hospital, there are some teams in Cardiology. There are heart failure team, echo team, vascular team, consult team, CCU team. I participated in CCU team and consult team. As well as in Pulmonary, I had a patient, who had heart failure. When there was nothing to do, I was given some homework. For example, I read some articles of NEJM and "up to date". It was so hard that sometimes I broke off my heart, but this experience made me grow.
In the final month, I rotated in Pathology. There was a Japanese attending doctor in surgical Pathology, and he accepted me. The office staffs were so kind that I could open up to them quickly. I observed "sign out" section and "frozen" section, and "growth" section. There were many specimens and I could learn so much about Pathology, and gain a lot of medical terms. In Pathology rotation, it was not so busy, but therefore, I was able to focus on my work.
I applied for this program for some reasons. I wanted to put myself in an English-speaking environment, and I wanted to observe the medical site in other countries. Now, I think I could improve my English skills and learn the differences in the medical site between Japan and the U.S. Furthermore, I got motivation from doctors and medical students there. I will never forget these experiences over my life, and they will be very precious for me.
I really appreciate doctors in Nagoya University, people in the office of international affairs, staffs in educational affairs, senior students, classmates, my family, and all th people who have supported me.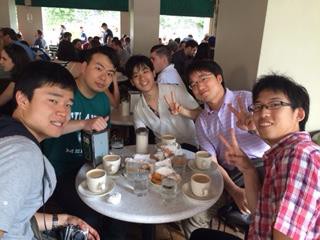 The Journey to the USA
Akinobu Ishiyama
First of all, I would like to appreciate everyone's support for the exchange program. The first three-month experience at Tulane and the next one-month at MGH is undoubtedly unforgettable. My perspective has changed thanks to the life in the United States.
The reasons why I chose Tulane Univeristy were that the friendship between Nagoya and Tulane was the most active, I had been interested in the lifestyle of New Orleans and that I would like to experience the clinical electives at the hospitals where my friends studied. Six Tulane students visited our medical school this year and five Nagoya Students also studied at Tulane. New Orleans is well known for its specific food and music. My rotations at Tulane were Orthopaedics Surgery, Anesthesiology and Urology.
At Orthopaedics Surgery, I was assigned to work at Joint, Trauma, Foot & Ankle and Sports services. My goal at this department was working as a team member. I was mostly at Operating Rooms to assist the operations. Even though I should be in the hospital early in the morning (sometimes around 430 am), I could round both pre- and post-operative patients at first and then go to the OR to prepare for the coming operations. When I worked at clinic, I mostly helped treatment such as changing casts, gauze or removal of stitches.
My second rotation was at Anesthesiology. Even though I am thinking of specializing surgeries, I was not familiar with Anesthesia and the knowledge or skill was too limited. This is why I chose this department for my next rotations. The doctors at Anesthesiology were educational and they always asked students to experience intubation when the cases were appropriate. Also, I had an opportunity to give a presentation to doctors about the airway evaluation of pre-operative patients. Compared to the patients in Japan, the number of patients who have obesity in New Orleans was obviously far larger, that is why the students had difficulties in intubating patients.
My last rotation at Tulane was at Urology. I was overwhelmed to see how well the sub-internship students worked and knew about Urology. Even though they already decided to specialize Urology not like Japanese students, their knowledge was far beyond mine. I made efforts to read Up-to-date or textbooks and learn as much as possible to catch up with them. Regarding surgeries, many of cases were done by robot-assisted instrument which is called "da vinci." Even though da vinci is used mostly for prostatectomy because of the insurance issues in our country, it is also done for cystectomy or nephrectomy. Students are not allowed to scrub in these cases but attending doctors thankfully told us how to proceed with monitors.
The lifestyle in New Orleans was fantastic. New Orleans has a different culture because it used to be French and Spanish colony. People are kind and cheerful enough to be helpful for medical students. They always allowed me to take medical histories or give treatments. Also, students I made friends with there were also helpful and bright. There are lots of reasonable restaurants or bars with good quality. Even if the town itself is not clean, my stay in New Orleans was far above my expectations.
After the rotations at Tulane were done, I moved to Boston to do another study at Massachusetts General Hospital (MGH,) which is one of Harvard affiliated hospital. I had an opportunity to learn at MGH Transplant Surgery service thanks to Professor Kawai. I was able to observe DCD (Organ Donation after Cardiac Death) organ removal case as well as living donor nephrectomy, hepatectomy and transplant cases. I also luckily observed simultaneous heart-kidney monkey transplant case for the professor's research. In addition, I made friends with Harvard medical students who rotated Transplant service at the same time with me. Their motivation for study drove me to study as well.
Boston is a beautiful, clean and humble city. It is accessible enough to visit well-known historical sights, museums and baseball stadium. Even though living cost is pretty high, I was satisfied with my stay in Boston.
Finally, I would like to mention the connection I was able to get with people in the United States. As is often mentioned, Japanese people are shy compared to people in Europe or America. Japanese people is said that they understand what other people think about without saying clearly, on the other hand, it is better to mention what you want to do or study during rotations. Through the conversations, I got several chances to do more during rotations such as suture and taking medical history, or to understand what others think about and how we are different. I also met tons of people who stimulated and helped me during my stay in the US. A friend who I met in New Orleans and started his residency in Boston let me stay in his flat while I was in Boston and the professor at MGH allowed me to study there for a month even though either of them did not know or see me before I went to the US. In addition, my family, classmates and friends who got the same studying abroad scholarship program always cheered me up. Without their help or the support of International Affairs office and the stuff of Nagoya, Tulane and MGH, I could not have been to the US as an exchange student. Moreover, I really appreciate the support of the TOBITATE! scholarship program by Japanese government and various Japanese companies. Thanks their economic aid, I had not been concerned of the cost of studying abroad. I would like to express my deep gratitude again to all of you who encouraged and supported me. This experience was all in all far beyond my anticipation.
Adelaide University and Tulane University
Hitomi Kimura
I went to Adelaide University in South Australia from April 20th to May 15th, 2015, and Tulane University in Louisiana in the United States from June 8th to July 31st, 2015.
Adelaide
 I was studying at Burns Unit in Royal Adelaide Hospital. Burns unit of Royal Adelaide Hospital is very famous in Australia and it accepts burned patients who get burn in the half area of Australia. On the first day of my rotation, I saw a patient who got burned to dermis and lost his nose and ears. I was very surprised at that moment because I had never seen such a severe burned patient in Nagoya University Hospital and at the same time, I was motivated to learn a lot of things that I had not been able to see in rotation in Japan.
There were therapies which used free flap and Biobrane (artificial skin). These treatments were not taken place in Japan so I had a precious experience.
Tulane University
 I was rotating on Pulmonary medicine in June, Pathology and OBGYN in July. When I was at pathology, I felt that the United States was a country filled with suits as I expected. There was a "mesh for a suit" in the specimen room and doctors told me that the patient who had taken TVM operation wasn't satisfied with the result so she went through another surgery and she would sue the doctor of first surgery with the mesh!! It was a little bit strange for me, but they said these cases were common in the United States. While there are 300 thousands doctors and only 30 thousands lawyers in Japan, there are 0.9 million doctors and 1 million lawyers in the United States!! Doctors called lawyers "enemy" and got insurance to save themselves.
Moreover, I could experience a different set of values during my rotation in OBGYN. The ratio of Caesarean section was very high and most of trans-vaginal deliveries was with anesthesia. When I told them that we usually don't use anesthesia in delivery, they were so surprised and asked me that why we don't escape the pain that we don't have to experience. But there was a lot of common ground between them and us. For example, regardless of nationality or race, everyone is happy and impressed at the delivery. And of course doctors do urgent Caesarean section to save patients they are facing. I realized that OBGYN is really nice and want to be an obgyn in the future. There are many patients who only speak Spanish in New Orleans. Some doctors and students can speak not only English but also Spanish. They said that they have to be bilinguals in the coming age.
After studying abroad
 There are many different aspects in the system of medicine and education between Japan and Australia or the United States. In both countries, students do more practical things such as taking blood. Medical workers including doctors and nurses, however, always did their best to save patients in every country. Now that I saw foreign clinical fields, I can recognize how hardworking and formal Japanese medical workers are. And the best thing I learned from this experience is that I was able to know that there are many people all over the world who are so kind to me. I felt lonely and language barrier there, but a lot of people really supported me. I will never forget about this. I would like to express my appreciation to all of you for giving me this precious chance. Thank you very much.
Johns Hopkins University, School of Medicine
Keigo Mizutani
I had been at Johns Hopkins Hospital from March through June. I had clinical clerkships for two months and stayed in a lab for the last month.
The first term was Hematology clerkship and I got an acceptance letter only from this department before I went to the US. Many of the patients admitted there had hereditary diseases such as sickle cell disease and factor V leiden, which are quite rare in Japan. Consults in the afternoon were mainly on coagulation disorder or anemia. They were so difficult for me to analyze by myself that I often needed residents' assistance. I had a new attending every week while residents and fellows also often changed. The conferences held more than three times a week were usually very academic with doctors from oncology or pathology.
Around two weeks after I got to J.H. I luckily received a new acceptance letter from Neurosurgery which confirmed my second clerkship at that department. On the first day of the rotation I met a PGY-2 resident who looked so pale after his night-shift. He told me that he had three night-shifts per a week. I realized that this would be very intense and he suggested that I should be at the resident room at least before 5:30 am.
I was mainly in tumor/vascular surgeries. In most cases, especially in spine group, I was allowed to scrub in. I remember that on the second day one of the chief residents had me make an incision and suture but I couldn't make it well. He let me know a Japanese postdoc, Wataru Ishida, who also went through sub-internship in Neurosurgery four years ago. He was kind enough to help me not only accomplish my internship but also lead my life in Baltimore. Unfortunately surgeries seemed too complicated and difficult to understand without abundant knowledge on neurological anatomy or opportunities to do them by myself.
I assumed that I would be able to have three months clinical clerkships before I applied for this program but to my surprise they were shortened by J.H. this time so I stayed at Ashikaga lab for one month thanks to many people. In the lab I was usually working with Yuko Inoue, analyzing ECG and MRI. I got to know what the postdocs' lives were like and how the papers were organized.
I was told that it would not be safe in Baltimore before I left Japan and unfortunately it really was. In May there was a huge riot in downtown. I was rotating at Neurosurgery at that time and it was very dangerous to go to hospital before dawn. I saw people with various cultural backgrounds in cafeteria but it was a bit strange for me to see some National Guards among them, sitting next to those in white coats.
I met four students from Taiwan at the end of March when I was in Hematology. It was so kind of them to ask me to go to cherry blossom festival in Washington and give me a ticket for baseball game in Baltimore. Jordan, who was one of the smartest medical students I have ever met, invited me to his trip to New York and we really enjoyed the trip after we finished our clinical clerkships.
To be honest it was very demanding from various viewpoints but I hope this will pay in some way.
Clinical Clerkship in Tulane University
Kosuke Nakamura
In the Spring of 2015, I had an opportunity of doing my clinical clerkship at Tulane University in New Orleans, Louisiana state. This is about 3 months travel, being the first experience for me to stay another country for so long time. When I look over this invaluable experience, I feel happy that the first experience to stay was at New Orleans and the first hospital I have done my clinical clerkship was at Tulane University hospital.
I have two reasons why I joined this chance to do the clinical clerkship abroad. First, I long for the (university) life in another country. This is so simple! I've always wanted to try living a different life in another country. Second, I have an interest with the medical system of the USA. Through several media, I got to know that there are so many differences about medical system between Japan and USA. However, I think that I want to feel the difference from the standpoint of medical staff in person. Moreover, the younger we are, the more flexibly we can absorb the knowledge and change. The younger we are, the more easily we can decide everything and do actions. So, I think it is the best time for me to go abroad and do clinical clerkship when I am a university student.
I rotated Endocrinology for 2 weeks. I remember that on the morning of the first day, I was very worried about if the doctors would accept me and I could communicate in English. However, fellows and attending doctors accepted me gently. Their kindness and patience encouraged me to study hard and enjoy my bedside training. Most of the training was done at clinics, and Most of the patients were the follow up of DM or Thyroid disease. As the day passed, I got more knowledge and I was able to talk with doctors using this knowledge. That was a happy thing for me.
I also rotated Cardiology for 6 weeks. I am very interested in Cardiology, so I had been looking forward to doing clinical clerkship in Cardiology. There are several groups in Cardiology department, such as Consult team, CCU team, Heart failure team, catheter team, etc. I participated in the Consult team and CCU team. I had opportunities to join in the conference and round with residents, fellows and attending doctors, and there were several times I made presentations to them. It was difficult but at the same time, it gave me a good chance to grow up.
Finally, I rotated Surgical-ICU for 4 weeks. It was a toughest rotation. I had to get up very early and all of the residents and students were too busy, so there were few opportunities for me to talk and ask them. So I had to use my full skills to imagine what was going on and speak sophisticated English. Moreover, what was most important thing for me was to show my presence! I guess this situation is similar to what I had wanted (like the situation of TV drama "ER"). Of course there are several things I was able to do and there are other things I was not. However, I could enjoy my rotation at Surgical-ICU.
All of my experience through this travel is Irreplaceable, and it is lucky for me to enjoy all of them. I owe it to all of the doctors and students and friends at New Orleans. Their presence and help and kindness made my travel best! Moreover, I would like to thank all of the doctors and staffs in Nagoya University who gave me this chance and helped me through going abroad.
Medical University of Gdansk
Masashi Negita
It was my pleasure that I had an opportunity to participate in clinical clerkship for three months at Medical University of Gdansk in Poland (MUG). Gdansk is a beautiful port city and witnessed many important scenes in world history. The official language in Poland is Polish, but MUG has English Division, which is the course for non-Polish students and the language used in their classes is English. There are students from all over the world, for example Sweden, Norway, Italy, Spain, UK, US, Canada, Kenya and so on. So doctors at MUG have got used to teach in English and this is one of the reason why I chose to study at MUG.
I rotated family medicine, general surgery, gynecology, urology, oncology and emergency medicine. At family medicine, I studied at outpatient clinic and it was nice that I had a chance to see the medicine outside of university hospital in Poland. My Polish was too poor to understand medical conversation but many doctors helped me and I took history or examined some patients. It was interesting to exchange information about the difference of family medicine in Japan and Poland.
At general surgery and gynecology, I rotated with English Division students. It was nice that I could compare medical education for them with those for students in Japan. I observed a lot of surgeries but what was impressive was gastrectomy for obese people because such surgeries are very rare in Japan. At lectures, teachers sometimes mentioned about the way of classification or treatment unique in Japan and I realized that Japan has highly qualified medicine and we don't always have to adjust to the standard in US or EU. Students understood well about basic medicine and questions for teachers or discussions in those lectures were stimulative.
At urology and oncology, there are no other students. And my curriculum was more flexible, in other words, I was required to be more aggressive. Eventually, I observed many surgeries every day and assisted some of them at urology and learned well about the work of oncologists such as chemotherapy or radiotherapy who are still not so common in Japan. At wards of oncology, many patients had pictures of John Paul Ⅱ on their bedsides, who were the first Polish pope, and I felt anew how important religion or culture is for patients who are facing serious illnesses like cancer.
I studied at emergency outpatient unit for one week in my rotation at emergency medicine. But emergency physicians were very busy and sometimes it was a too heavy burden for them to translate from Polish to English and teach for me. At times I just observed incomprehensible examination. Still I tried to study Polish harder at break times. Some staffs showed interest to my Japanese-Polish textbook. They felt closer to me and provided opportunities to do some medical procedures like blood sampling. At second week, I joined classes with English division students and trained clinical skills like ACLS procedures while using dolls. Some scenarios were complicated but we trained again and again, then all of us passed the final exam.
My best memory in extracurricular activities was that I had an opportunity to visit the office of Mr. Lech Walesa, who was the President of Poland and won the Novel Peace Prize in 1983, and his private doctor Dr. Joanna Muszkowska-Penson. We talked about the democratization in Poland, what is required for leadership, the relationship between Japan and Poland and so on. I learned great lessons from those two dignified people.
In the end, I would really like to appreciate to all the people who gave me such a great opportunity, especially to Dr. Kasuya, Dr. Kondo, Dr. Hasegawa and all the staff of the International Affair Office of Nagoya University, Prof. Woźniak and Prof. Wakabayashi, who started this international cooperation between Nagoya and Gdansk, and all the people who helped me at Medical University of Gdansk. Thank you very much.
Fake it 'till I become it
Jumpei Shibata
I got arrested when I tried to pass the immigration office. Yes, I got arrested. Police officers came and took me into the inspection room. Precisely, because of my trial using ESTA instead of visa, I was on the verge of kicked out from the US at the beginning of my exchange. That was the start of my two-month stay.
During my stay in New Orleans, Louisiana, I rotated not only defined two departments, Radiology and Urology, but also Clinical Pathology, Bioengineering and Public Health. All of the opportunities were not achieved without someone's help. I really appreciate my fortune and the kindness of people.
In the department of Radiology, I attended morning and lunchon lectures every day. In addition to it, I got a chance to discuss the case which is consulted to the radiology department with residents and attendings. There were several students who rotating it with me and I was luckily surrounded with them and talked about their carrier pass and their health systems. One of the attractive points of Radiology is cross-specialitized, which means various kinds of disease we can experience. For example, only during my rotation, I could see Hodgkins Disease&GVHD, Recurrent artery of Huebner infarction, Spondylolisthesis, Madelung Disease, Alport Syndrome, Cryptococcus Meningitis, Tolosa Hunt Syndrome, Peyronie's Disease, Scapholunate Advanced Collapse(SLAC), Tuber Cinereum Hamartoma, Ogilvie Syndrome and so on.
On the other hand, I got frustrated in the Urology department since I again and again realized the lack of medical knowledge and English proficiency. One of the students who rotated with me is so skillful, full of knowledge and motivated that doctors gave him a bunch of opportunities. Compared to him, even trying hard, I barely caught up with him. But I couldn't have felt such strong emotion when I had stayed in Japan. Overcoming a lot of problems and frustration made me to grow, I think.
The lifestyle in New Orleans was full of excitement. Every weekend there were festivals to go and reasonable restaurants and bars. People who lives there are kind and very cheerful. I made friends with medical and pharmaceutical students and I hope to keep in touch with them.
Before I came here, I thought all of my obsession-like fixed ideas have to be changed due to adjust myself into the "American style." And actually, I hope so. But after finishing my stay abroad, nothing has changed. That is what I realized. What exists there are: good people, bad person, diligent guy, lazy man. Same with my country. But, there was one thing I could notice. The more enthusiastic I tried, the more I received back. The level of the question, communication was brought up when I studied hard. And most importantly, it made me happier than not. After all, all answers of my study abroad exist inside of me. But if this exchange was for such notice, it would be worth going to New Orleans.
Last but not least, I would like to show my gratitude to all of the people who supported my exchange. Without the help from teachers, staff of the international affairs office, friends and my family, my exchange couldn't be such a meaningful one.
A Splendid Time in Gdańsk, Poland
Kazuki Shimizu
It was a rainy day when I set foot at Lech Wałęsa Airport with full of excitement and a slight fear. I have never been to East-Europe before, so, on my way to the dormitory from airport, I was pondering what it would be like to live in the city mixed with its past prosperity and its tragedy under the rule of communism.
So, how many of you have heard the name of the city, Gdańsk? Gdańsk is famous for its history as The Free City of Danzig, the place of WWⅡoutbreak and the birth place of "Solidarność", which is a movement for rocking the system. Shipyard workers in Gdańsk striked to protest poor living standards.
During my stay in Gdańsk, I could luckily rotated six departments, Family Medicine, General Surgery, Diabetology, Public Health, Infectious Disease and Palliative care.
In the department of Family Medicine and Diabetology, I visited the local hospital (Klinika) and did some physical examinations. I happened to see some interns there and we could discuss the difference of health care systems, medical education in University and how they would become specialists after graduation.
In General Surgery department and Infectious Disease department, I was surrounded with nice guys, English Division (ED) students. ED is famous in East-Europe countries. ED students can be awarded the MD degree when they graduate and receive a medical diploma recognized in the European Union, USA, Canada and most other countries of the world. Foreign students can get a financial support by applying for student loans in their home countries. In my case, I became acquainted with students from Sweden, Germany, England, Thailand, Bangladesh, Kenya, Somalia and many other countries. I could spend my days in "Diversity." (Some doctors were so much interested in Japan and I promised to guide them during theirwhen they come to Japan next time.)
In Public Health department and Palliative Care department, I learned the important lesson from my tutor. Compared to Japan, People in Europe seemed to have a great knowledge for how they would conclude their life. I had no idea why they could think like that but I considered the religion might be related and they might be taught from their childhood. I will never forget the word by my tutor, "Don't forget to ask your patients not only about disorder but about "heart and soul" as well". "I know that geographic distance in huge but maybe we could cooperate for example in scientific area".
I could enjoy the time in Poland outside the hospital as well as inside.
Short trip for Auschwitz-Birkenau German Nazi Concentration and Extermination Camp became an unforgettable one. It was so solemn and what impressed me most was groups from Israel staring at their past. What is the sanctity of life? What is human dignity? What is the respect for others and what is happiness...? We must not be passive bystanders. We must see what happened and share awareness of the problem. Still we on earth face a lot of difficulties but at the same time I'm convinced we have great potentiality for the best.
In addition, I became one of the volunteers of Japan Festival and cooked octopus dumpling balls, "TAKOYAKI" in Warsaw. I had an enjoyable time with those who live in Warsaw. During the festival, I could talk with Mr. Makoto Yamanaka, the Japanese Ambassador to Poland.
Finally, it was undoubtedly honorable to meet a charismatic leader, Mr. Lech Wałęsa, a former President of Poland from 1990 to 1995, who is also a winner of Nobel Peace Prize in 1983. He became famous as a trade-union organizer and the co-founder of Solidarity, "Solidarność" in 1980s. He is still the activist for protecting human rights. Discussion themes were "Key factors for movement, Peace, Leadership and Relationships between Poland and Japan for the future". He was really energetic, enthusiastic, persuasive and attractive. I am convinced that Gdańsk, or what is called "Trójmiasto", has the possibility to be the next gateway for Japan.
In the past, Bismarck mentioned "Fools say they learn from experience; I prefer to learn from the experience of others". I would strongly recommend Gdansk is one of the best places in the world for both learning medicine and seeing the history objectively. I'm convinced you would be sure to realize your special property here, most of which have been concealed before.
A life in Gdańsk enriched my heart. Practice was so nice with full of cool people. It was wonderful. It was superb. That became a very good memory. It was my pleasure to meet all of them. I'm most grateful for their warm hospitality in Poland.
I would like to thank all the great teachers, school officials and many other people who supported me. Moreover, I would like to express my heartfelt gratitude to Professor Michal Wozniak (Medical University of Gdańsk) and a dignified physician, Dr. Joanna Muszkowska-Penson (Lech Wałęsa Office) for their great cooperation.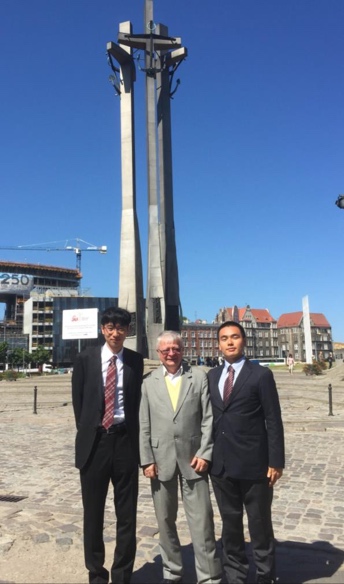 My experience in Vienna Medical university
Koji Suzuki
In May I visited Vienna Medical University, and practiced at the department of General Practice. The department of General Practice holds a one-month special program for foreign students from all over the world every year. I participated in this program. This program includes many lectures about medical problems in Vienna, and I went to many places to attend these lectures. For example, I went to a high school to hear about the job of school physician, and other time I went to a general practitioner to see how GPs in Vienna are working. The most impressive experience for me was when I accompany the out of emergency service doctors, because there is not such service in japan. I really enjoyed it. I would like to thank people at the department of international affairs in Nagoya University, and people at the department of General Practice in Vienna Medical University for giving me such an great opportunity.
Pittsburgh and Duke University Clinical Clerkship Report
Takeshi Suzuki
I was given a chance to study at University of Pittsburgh Medical Center (UPMC) and Duke University Medical Center. First of all, I would like to say thank you to everyone for your support. The days in the United States were tough and challenging, but were surely fruitful and unforgettable.
I rotated in Infectious Diseases department of UPMC for the first four weeks. They were the most challenging weeks in the whole 3 months when I look back. Language was different, food was different, culture was different, and the system of medicine was different: Everything was different, and I was alone. All I could manage to do for the first one week or two was finishing imposed tasks. In the third week of the rotation, I realized myself having more time although I was doing the same job. I was growing. The more I get used to the tasks and the life in Pittsburgh, the more time I had to study what I'm interested, and the more fun the rotation started to be. I was able to learn many cases that I wouldn't be able to learn if I studied in Japan, such as Pneumocystis pneumonia and right-sided IE of IV drug users. The rotation in Clinical Management of Obesity at Duke University was something I wouldn't be able to experience in Japan as well. As it is widely known, obesity is one of the biggest medical and social problems of the United States. Duke University Medical Center is one of the few hospitals that has facilities and clinics which are specialized in managing obesity. I did not believe the effect of the diet they recommend until I actually saw it. The lifestyle the doctors teach, especially the way of eating, was helping patients to lose their weight, improving lifestyle-related diseases such as hypertension and diabetes. Some patients were actually off medicines. "Treatment is of course important, but prevention is far more important. And you are what you eat." I won't forget these words the doctor told me.
The last rotation was Basic Radiology. This was not the course I wanted to take, but was good as a result. I was able to rotate with Duke medical students in this four weeks. Since there were no medical students in the other two rotations, it was first time for me to communicate with American medical students. I was surprised to know how intense tasks they have been dealing with and how active they are in learning medicine. It was good to make inspiring friends and to know what kind of people I have to compete with if I try to be the best in the world.
These three months were the most enriching days in my university life. I might not have learnt a lot in terms of medical knowledge, but I believe the experience I had is more valuable than knowledge. There aren't many opportunities to feel yourself growing in Japan, but it is easier to do so when you study abroad because you notice yourself doing what you could not do one week ago.
I would like to end this report by appreciating everyone again for supporting my fruitful journey in the United States. I would not have done these courses without your help. Thank you very much.
Clerkship at Johns Hopkins University
Riku Takeuchi
From March to June 2015 for three months, I had a clinical clerkship in Surgical Pathology, and Pediatric Infectious Diseases, and a research clerkship in the Pathology laboratory at the Johns Hopkins University in Baltimore, Maryland.
The first clinical clerkship at JHU was in Surgical Pathology. Many differences in Surgical Pathology between the two countries became clear to me. I belonged to a consultant team in charge of examining pathological specimen brought in from other hospitals outside of JHU, I reviewed the slides assigned by the resident pathologist using a microscope, I summarized the pathological findings, and I made the presentation on the findings to the attending pathologist. This was my first clinical rotation in the US, and I had quite a lot of questions, but thanks to the kind guidance of others, I sufficiently learned how to examine pathological specimen.
In the second month I had a clinical clerkship in Pediatric Infectious Diseases, which was the section where consultation service for pediatric inpatients with infectious disease took place. The training here involved doing a presentation for an attending pediatrician on a consulting case assigned by the fellow pediatrician. I was occasionally puzzled by the difference in the use of medicine between the US and Japan, yet this department accepted infectious cases irrespective of human organs, so I could learn a lot about infectious diseases. On the last day I did a thirty minute presentation on the case I had been assigned and on a topic related to the case.
In the last month I had the honor of getting involved with a research project at the Pathology Laboratory where the theme of research was early diagnosis of pancreatic cancer. On top of observing and performing various experimental procedures and learning a lot of skills necessary for experiments, I could see many differences between the US and Japan in the management and atmosphere of the laboratory. Many Japanese researchers in this laboratory have helped me realize what I should be paying attention to when I study abroad as a postdoctoral fellow in the future.
I found the three months in JHU exciting and delightful, and the training a very enriching experience. I had the opportunity to meet with the people I would probably have never met if I had done the training in Japan. This stimulating opportunity will surely have a strong impact on helping me decide my future career as a researcher.
Duke University, School of Medicine
Tomohisa Tamai
I was allowed to do clinical practice for two months at Duke university. Duke university is located in Durham, NC, which is a rural town surrounded by nature. I faced a series of hardship during the stay. The biggest difficulty was, of course, English. I did try to be ready for this study through TOEFL, but abbreviations and pronunciation made it difficult for me to understand what they said.
I rotated in radiation and management of obesity for 4weeks respectively at Duke university.
First, I rotated in radiology. Radiology at Duke University is divided into eight divisions. In each division, I studied for 2-3days. In the morning, I did clinical practice. After lunch, I had a lecture for 2-3 hours. Then I resumed clinical practice. In addition, mid-term and final-term examination was imposed on me. Furthermore, the exam accounted for more than 50% of the evaluation. I was really anxious about it. Every day, I was busy completing assignment such as presentation. But, I had a chance to practice biopsy using ultrasound and chicken. I really enjoyed it. What surprised me most is the excellence of the students there. I could not believe the amount of knowledge second-year student had. Inspires by them, I was immersed in the study of daily l studies. Thanks to that, I was able to get a passing mark in each test.
Second, I rotated in management of obesity. The practice place was different in each day and far away from the main hospital. Thus, I had a hard time going to each place. I observed some surgeries such as gastric bypass surgery and learned many approaches such as limiting the amount of carbohydrate. In addition, I was given many papers and learned a lot, reading them. Sometimes, I had a chance to interview patients and make a presentation about them to doctors. This was a very good experience.
Including study in hospital, I faced various difficulties. However, overcoming them and finishing the study there successfully enabled me to grow as a person. In addition to local students, I made friends with other exchange students. It is also a large property for me.
I've felt strongly the support of many people in this program. I would like to thank teachers and staff of the international exchange chamber, family, and friends, who have supported the study, for giving me such a wonderful opportunity.
Medical University of Vienna
Takuji Ueno
I studied at Medical University of Vienna in Austria for three month, as an international exchange student. The reason why I applied this program was that I wanted to try living alone and studying in other country, and to get familiar with English. As the clerk ship, I rotated 3 departments: Obstetrics/Gynecology, General Practice, Emergency Medicine.
In the first month, I rotated in OB/GYN. This department was separated into 3 parts which are Obstetrics, Endocrinology and Gynecology. On 7:30am they have a joint conference and after that each part has their own conference. (Of course the conferences are held in German, so I understood nothing!) At Obstetrics, I could assisted many Caesarean section. And before rounds, the professor explained me about patients in English, so I could participate in his round. At Endocrinology, I joined the outpatient only for transsexuals for the first time. It was very impressive that the doctor looked so happy when she saw the patients who changed dramatically after operations or hormone treatments. At Gynecology, I assisted many operations for carcinomas and other tumors.
Second month, I rotated General Practice. Our group consisted of doctors from other countries. We visited many medical facilities like GP's office, night emergency office, toxic center, refugee's shelter, and many more. In all facilities, the staffs explained about them in English. I tried asking as many questions as possible, but sometimes I was overwhelmed by other doctors' questions and discussions. And the professor held a class where we discuss about medical system and education of each country. It was precious chance to know about foreign medical systems and reconsider Japanese system. I also presented my thought.
My last rotation was Emergency Medicine (ER). On the first day, the professor said, "If you can't speak German, there is nothing to do and learn here. So how about seeing around Vienna?" But other students rotating ER at the same time showed around there and told me what I could do very kindly. So from next day, I joined them to take patients blood in early morning, and then participate in walk-in outpatient. My main job was taking IV lines while hearing doctor's explanation. And when they are not so busy, I took history, did physical exams and discuss with the doctor. This time also other students and young doctors helped me. In addition, I joined exams for more severe patients delivered by ambulances and followed doctors when they got emergency call from other part of the hospital. I was shocked when I saw the professor at first, but finally it was really productive clerkship.
Through this three month, I had to be very active. If I didn't make action, I couldn't even hear English, but when I asked a question, doctors answered very kindly and when I tried technique, they kindly taught me how to do it. I learned how important it is to be active.
Outside the hospital, I also met many people like students who came to Nagoya last semester and who will come next semester and medical students from other countries. I touched what medical students from other countries think and it was really incentive.
Overall, I experienced so many things I can never in Japan. I really appreciate Dr.Kasuya and other staffs of Office of International Affairs, and all people who supported me.