,likebtn,,{"twitter":true,"facebook":true,"mixi":false,"google":true,"mixikey":"","hatena":true,"pocket":false,"linkedin":true,"line":true,"tumblr":false,"pinterest":false,"facebookCom":false,"sortItems":["twitter","facebook","hatena","google","linkedin","line"]}

| | |
| --- | --- |
| | The Clinical Indicator have been renewed. |
| | Members of staff have been renewed. |
| | |
| | |
| | |
| | |
| | Our Website has been renewed. |
| | Dr. Hiroo Uchida became the second professor of the Department of Pediatric Surgery. |
Awards

Dr. Chiyoe Shirota received the 2015 ELSA Best Scientific Award.
Advantages of laparoscopy in the treatment of neuroblastoma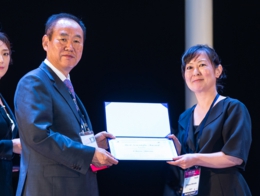 Laparoscopic surgery is generally considered minimally invasive and to involve rapid postoperative recovery, and is anticipated to facilitate a quick transition to subsequent treatments. However, few reports have compared laparoscopy and laparotomy in treatment of neuroblastoma. Here, we compared both methods and investigated the usefulness of laparoscopic surgery. We suggest that laparoscopic surgery might be a useful minimally procedure for the resection of neuroblastoma.
Dr. Naruhiko Murase was awarded the 2015 SLS Best Poster Prize.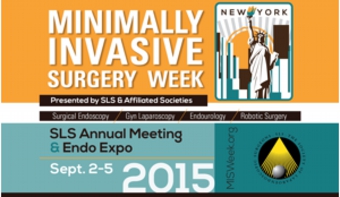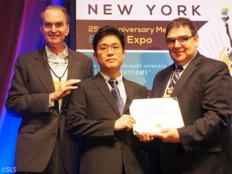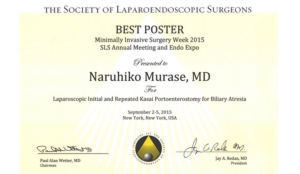 The Paul Alan Wetter award for Best Poster was awarded to Dr. Naruhiko Murase (center) ©SLS
The Society of Laparoendoscopic Surgeons (SLS)
Access
Train, Subway or Bus
1.Three minutes on foot from the Exit of Meidai-Byoin-Guchi of JR Tsurumai Station.
2.Eight minutes on food from Tsurumai Subway Station.
3.Take the city bus route 18 bound for Myokencho at 'Sakae' bus stop and get off at Meidai-Byoin bus stop.



By Car
Please see the map.
We have limited space for parking (with charge), so please use public transportation if possible.
,0b8c9035-7fd2-4f1c-915a-423834aabee8,,